Meet Our Certified Sweeps & Staff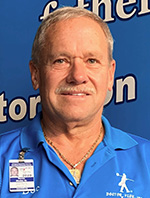 Kevon H. Binder, aka "Doc"
Owner
CSIA Certified Sweep
NFI Gas Specialist
TracPipe Certification
Licensed Residential Builder
Licensed Mechanical Contractor
PADI Certified Diver
Chief Cook
Bottle Washer
Doc began Doctor Flue, inc.® in 1986, with his wife Valerie, and has grown from a one man / one truck operation, to employing nine professionals, and owning five trucks. Read how Doctor Flue, inc.® began. Doc enjoys scuba diving, ATVs, gardening, and loving his grandchildren.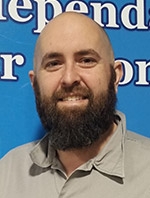 Kevon R. Binder
CSIA Certified Sweep
NFI Gas Specialist
TracPipe Certification
Kevon R. was the youngest CSIA certified chimney sweep at the age of 15, and has recertified every 3 years since. Kevon R. is responsible for managing field operations and large projects, and offers In-Home Fireplace Consultations. Kevon R.'s passion and skill with technology has helped Doctor Flue, inc.® stay on the cutting-edge of the industry. Kevon R. says, "I enjoy the interaction with the public, and I get to work closely with two of my passions: Technology and Fire." He is devoted to spoiling his wife, Anne, and their bulldog, Bambi.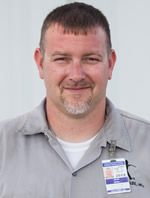 Jake Retter, Sr.
CSIA Certified Sweep
NFI Gas Specialist
Jacob joined Doctor Flue, inc.® in 2011, and became a CSIA Certified Chimney Sweep and NFI Gas Certified Technician in 2012. He is now a lead technician with skills in sales and service. Jacob's background and skills in construction lend a hand to his expertise on the job. Jacob spends much of his spare time chasing around his 4 sons: Austin, Trent, Collin, and Jacob Jr.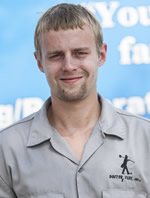 Nick Raleigh
CSIA Certified Sweep
NFI Gas Specialist
Since 2008, Nick has been a part of Doctor Flue, inc.®'s team. He achieved his CSIA Certification in 2009, and is a lead technician with experience in sales, service, and installation. He is also a NFI Gas Specialist. "I enjoy working for Doctor Flue because of the camaraderie here with the team." On the job he meets new people and is happy to educate them about their chimneys. Nicholas's skills include not being afraid of heights, and working blind with his hands. He also enjoys riding his motorcycle and being with his family.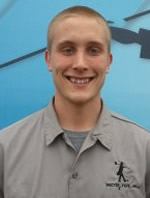 Mike Grisham
CSIA Certified Sweep
NFI Gas Specialist
In 2012, Mike joined Doctor Flue, inc.®'s team, and became CSIA Certified in 2013. As a Lead Technician, Mike offers his high-energy and cheerful disposition to each and every job. When he's not evaluating chimneys and fireplaces, Mike enjoys fishing, BBQ on the grill, watching the Detroit Lions play football, and working on his Chevys.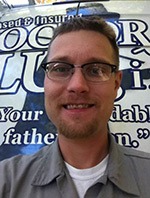 Jason Wallace
Apprentice
In September of 2014, Jason started his career at Doctor Flue inc. as a Technician's Assistant. Jason really enjoys being a part of a team that is dedicated to quality workmanship and customer satisfaction. When not working hard at Doctor Flue inc., he can be found fishing, hiking and spending time with his dogs Brutus and Olive. He intends to begin working on becoming a certified technician to better serve all of our customers.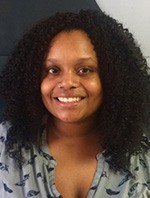 Kyria Hunt
Office Manager
In 2014, Doctor Flue inc. welcomed Kyria to the team. You will hear her cheerful greeting when you call our office. "I enjoy working for Doctor Flue inc. because it feels like home. I like that we help people, and I love to help others." She enjoys being a mom, writing, reading and keeping up with current events. She is actively working towards becoming a Certified Chimney Sweep to better serve our customers.