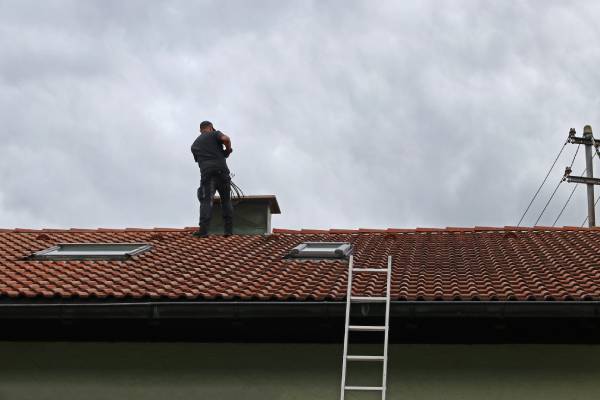 With record temperatures out there, your chimney may be the last thing on your mind. But it shouldn't be! Now is a great time to hammer out some of those maintenance issues that you'll wish were done when the snowfall starts again – like looking at your chimney! But how do you know when you need chimney repairs?
Read on to find some of the most common issues that can homeowners can often identify themselves to know it's time for a professional to come out and repair their chimneys!
1. Leaky Chimney
Does your chimney leak? If so, it's probably time to plan chimney repairs. A leaky chimney is a big red flag when it comes to home safety for several reasons. For starters, rain entering your chimney introduces moisture to your home that you don't want. Moisture can lead to mold, and mold can start damaging your property. Even brick won't hold up against excessive moisture over time which can lead to major issues.
Secondly, a chimney that's leaking means a breach in your home. Even when it rains, a chimney shouldn't be showing clear signs of it. From the cap on top to the brick and flue liner throughout, you shouldn't be noticing rain coming in through your chimney.
Throughout the spring, we've had no shortage of rain, and if you've noticed dripping water or excessive moisture around your chimney, it's very likely that your chimney is damaged or the cap needs replacement.
2. Cracked Chimney Crown
A chimney crown protects the bricks from water penetration and damage. As the first line of defense against most weathering and moisture, it also takes the biggest beating. Damage to a crown often occurs during the winter and spring when the changing temperatures cause the material to expand and contract.
If your chimney crown is cracked or damaged, water will seep into the chimney, causing a plethora of problems similar to a leaky chimney.
In addition to water troubles, a cracked crown leaves the exposed masonry vulnerable and will worsen over time. The longer a cracked chimney crown goes unresolved, the more serious the problems will become. Eventually, you may even start to find critters making their way through the exposed areas to find shelter in your chimney or home!
3. Deteriorating or Cracked Mortar Joints
Mortar joints hold the bricks on your chimney together. With repeated exposure to snow, ice, water, and seasonal temperature changes, the mortar can become saturated with water which can cause the joints to deteriorate or crack.
If the mortar joints become too damaged, they will not be able to support the weight of the bricks, which can put your home and safety at risk.
It might be a good idea to climb up on your roof and do a visual check of the condition of your mortar joints. The average homeowner might not be able to identify more subtle signs of deteriorating mortar joints, so this is one type of issue that's best left to the professionals. It also requires close inspection from the rooftops, which isn't always safe without the right equipment!
4. Shaling Tiles
If your chimney liner is damaged, you will begin to see flakes of chimney tile accumulate in the fireplace. Shaling flue tiles are a sign that you should have your chimney liner replaced as soon as possible. If left un-fixed, a damaged chimney liner can cause a dangerous chimney or house fire.
Doctor Flue is experienced in repairing and installing chimney liners of the three major types, clay, metal or cast-in-place. Many homes benefit from new metal chimney liners for both their reliability and ease of installation.
A chimney liner is not something you want to leave damaged. While you may think it's added protection, it's actually the safeguard against your brick experiencing damage from extreme heat! Over time, brick exposed to direct fire (and other damage) can give way, allowing smoke, heat, or direct fire to escape your chimney before the peak, potentially igniting wood construction near the fireplace. This is one of the most common causes of house fires related to chimney disrepair!
5. Spalling Bricks
Bricks, like mortar joints, become compromised when saturated with water. If you notice any flaking, peeling, or crumbling of the bricks on your chimney, it's a serious sign of damage.
You may also observe entire bricks popping out of place. If this is the case, you will likely need to invest in structural chimney repairs.

Schedule Service for a New Fireplace Today!
Our  CSIA Certified Chimney Sweeps can help you find the right new fireplace for your home and install it. Our technicians follow up-to-date safety standards and compliances to ensure your new appliance is effective and safe! Contact us today! We'll get you set up right away so you can have peace of mind.
Call Us: 1-800-438-3583
Email Us: office@drflue.com
Office Hours: Mon-Fri: 8am-4pm
Connect with Doctor Flue on Social Media