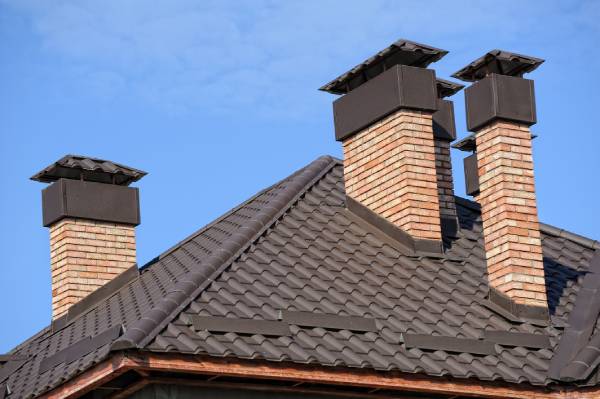 Safety is a hot topic. Another hot topic is your fireplace! The heat this summer may have kept you from having a large blazing fire in it lately - or even a small cozy one. Even so, chimney and fireplace safety is an important topic when it comes to keeping your home safe.
There are many parts of your fireplace and chimney that you don't see on a regular basis – and some you never see at all. But that doesn't mean that ignoring them is a good idea. In order to ensure your chimney is working properly, it's a good idea to know your chimney and how it affects your home, roof and fireplace and how the proper chimney protection can keep it in good condition for years to come.
What Parts Are for Chimney Protection?
When you know the parts of your chimney and their function, you can better understand how your chimney works. This, in turn, helps you know the best steps you can take to keep your home safe. Likewise, there are certain parts of your chimney that are specifically designed for chimney protection. These features directly impact the safety of your fireplace and your home and are intended to keep your chimney functioning well.
Flue Liner
Unless you are Santa Claus, the interior is one part of your chimney you may not see often, if at all. Chimney flue liners protect the interior of the chimney and help limit the transfer of heat to the surrounding parts of your home that are combustible. This helps reduce threat of chimney fires, keeping your home and your family safe.
In addition, liners help to prevent masonry damage from excessive heat which can break down the structure of your chimney. Though bricks and mortar are tough, they do erode over time and a damaged or missing flue liner can leave the masonry of your chimney exposed.
Another aspect of chimney protection that flue liners provide is against creosote. This buildup can ignite and cause chimney fires. Because they are not made of material that is as porous as masonry, liners not only provide chimney protection but they are also easier to clean. It is important for all chimneys to have them. So, especially if you live in an older, historic home, schedule an appointment for a chimney inspection to make sure that your home's chimney has a liner.
Damper
When your fireplace is not in use, the damper protects against drafts by closing off the chimney. Additionally, dampers can also be the last line of defense against animals entering your home through a damaged chimney. It's important that it works well for safety. This means it should open completely for venting when you are using your fireplace. It also needs to close completely when you are shutting down the fireplace for the season to eliminate drafts.
Chimney Cap
One of the simplest and most important parts of chimney protection starts at the top with a chimney cap. They prevent many things like rain, snow and moisture from entering your chimney. They protect against critters and debris from getting in there as well. When debris, whether it be from an animal or twigs or leaves from a nearby tree, gets into your chimney, it can lead to poor air circulation and potentially even chimney fires. A chimney cap is an essential part of your chimney and a straightforward solution to many chimney problems.
Chimney Crown
While the chimney cap may be the crowning glory to your chimney, sitting right underneath your chimney cap is the chimney crown. The crown is another protection against weathering. An integral part of chimney protection, the crown helps direct water away from the chimney and masonry. Water may be good for many things, but it is not good for your chimney.
Ensuring you have the proper chimney cap in place is the best way to keep your chimney crown from becoming cracked. A cracked chimney crown is an invitation to water trouble; and water damage in your chimney is one party you don't want on your hands. Regular inspections can keep you out in front of major damage, and that's something to celebrate.
Flashing
Another very important part of your fireplace and chimney protection is the flashing. In fact, flashing protects your home just as much as it does your chimney. The point where your chimney passes through your roof is protected by the watertight seal that the flashing creates. When your flashing is damaged, leaks can occur in attic spaces from underneath the shingles on your roof. Many times, it goes unnoticed until the water damage, such as rotting wood and mold issues, has already occurred.
Masonry
Brickwork is at the core of chimney design as well as being at the core of chimney protection. But surprisingly, extreme heat can be damaging to bricks. This is why it's a point of emphasis that liners are important in protecting masonry. Spalling bricks that are missing chunks can result when masonry is not protected. Other damage can occur such as cracks which can lead to leaks, smoke damage, and even carbon monoxide poisoning. So, maintaining your chimney's masonry is important.
Regular Inspections
The Chimney Safety Institute of America recommends that you have your chimney checked annually and repair or sweep as necessary. The best chimney protection is regular inspections. You never know what might have happened to your chimney or fireplace without looking closely from the roof or using technology like Doctor Flue's specialized cameras. You can use a checklist to identify any obvious issues that may be going on with your chimney, but the best way to prepare for that "cozy fire in the fireplace" weather is with a professional inspection.

Schedule Service for a New Fireplace Today!
Our  CSIA Certified Chimney Sweeps can help you find the right new fireplace for your home and install it. Our technicians follow up-to-date safety standards and compliances to ensure your new appliance is effective and safe! Contact us today! We'll get you set up right away so you can have peace of mind.
Call Us: 1-800-438-3583
Email Us: office@drflue.com
Office Hours: Mon-Fri: 8am-4pm
Connect with Doctor Flue on Social Media