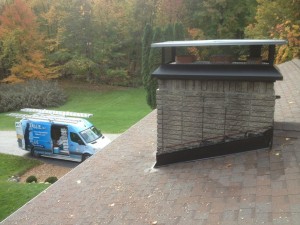 Did you know that homeowners in the US lose more than $200 million each year due to unsafe chimneys? Don't let your chimney to get so out-of-hand that you become a contributor to this statistic! To avoid a potential chimney or fireplace fire, it's important to get a chimney inspection every year.
Similarly, if your chimney has accumulated 1/8 inch of soot or more, it's definitely time to get your chimney cleaned! Now is the perfect time of year for a chimney inspection and cleaning. Get any issues taken care of before you need to fire up your chimney for the winter!
When you sign up for a chimney inspection and cleaning with Doctor Flue, here's what you can expect:
A highly qualified, CSIA-certified sweep will arrive at the time of your appointment.
The sweep will conduct a full inspection of your chimney's interior with high-tech video equipment. We will be able to show you video footage of any problems we come across.

We will check for: damage to the chimney liner, soot or creosote buildup
The sweep will also conduct an exterior inspection with photos for you to review.

We will check for: structural damage to your chimney, cracks in your chimney caps, covers, and crowns
If the sweep discovers any potential problems, he or she will walk you through their findings and work with you to put together a formal written proposal.
If you're getting your chimney cleaned, our sweeps will use the latest power sweeping and rotary cleaning tools to remove dangerous buildup of creosote from your chimney walls.
It's tough to put a number on how a chimney inspection and cleaning will take as every chimney is unique. However, the average chimney cleaning can take anywhere from 45 to 90 minutes.
About Doctor Flue
Doctor Flue provides chimney inspections and cleanings across Michigan and Ohio. Check to see if your home falls within Doctor Flue's Service Area. If you would like to learn more about the chimney inspection and cleaning process, please give us a call at 800-438-3583 or send us an email inquiry at office@drflue.com.
Connect on Social Media!