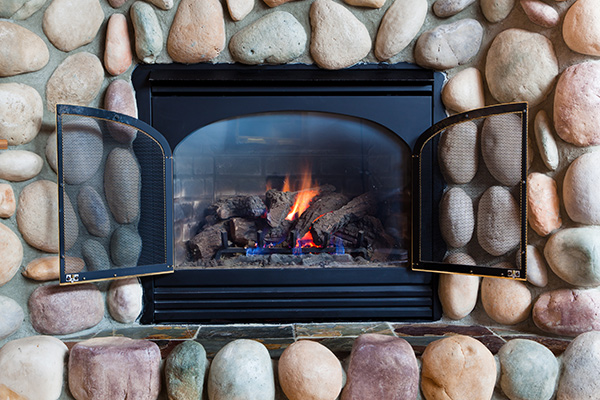 Homeowners are constantly looking for ways to improve their home value. Whether it's to increase your standard of living or simply to make it a better sale down the road, the possibilities are endless. While remodeled kitchens or bathrooms are a popular way to accomplish this, many homeowners don't think about how a fireplace affects home value. A simple update or adding a whole new fireplace can improve both the enjoyment of your home and its resale value down the road!
Fireplaces Improve Actual Home Value
The most common question for many homeowners is whether or not a fireplace actually increases home value. In short, yes it does. However, there are many types of fireplaces and the type you select will impact the value it adds to your home.
A simple gas insert, while easiest to install, will cost less and generate less overall value. On the other hand, construction to install a complete wood-burning fireplace and chimney may be expensive but can add a significant amount of value to the home.
Some estimations show that 90 percent of fireplaces increase a home's value between $1,000 to $10,000. This applies to indoor fireplaces and is similar for outdoor fireplaces.
The most important thing when adding a fireplace to your home is to ensure that it fits the space. First, it shouldn't dominate a room. A fireplace, though often a centerpiece to a room's appeal, shouldn't require too much space. Remember that more traditional fireplaces often incorporate large spaces for a hearth and mantle.
Secondly, the fireplace should aesthetically fit the space as well. Homeowners with a modern-style home may want to look for gas fireplaces that mirror their home's style. There are plenty of fireplace styles to choose from, so you'll easily find one that fits your house's aesthetic.
Do you live in a a city with historic homes, like Lansing, Michigan? No problem! Doctor Flue can carefully give your old fireplace a beautiful facelift to make it look modern or simply restore it.
Most People Want to Buy Homes with Fireplaces
In addition to the direct home value of a fireplace, it also improves its resale appeal. It doesn't matter how much your property is worth if you can't convince anyone to buy it – and modern home buyers want fireplaces!
In fact, almost two-thirds of homebuyers say a fireplace is a major factor that influences their desire to purchase a home. A cost-effective gas insert fireplace could seal the deal and save you months of work trying to sell your home!
Fireplaces Add Function
Fireplace home value benefits aren't just for selling, either. They add value to your standard of living while you're still enjoying the home!
Great Family Time Location
Fireplaces are one of the most traditionally cozy places in a home. Many homes have fireplaces installed in areas that are naturally gathering spots like family rooms, dining rooms or even kitchens. The comfort and warmth offered by a fireplace in these rooms helps cement them as fantastic places for a quiet evening or family time.
Zone Heating
Other than cooking, fires have always been a traditional source of heat to fight against the cold weather. This is still true – even in modern homes. Many homeowners have found that it can cost quite a bit to heat their entire house. If you or your family will be in one room that has a fireplace, you can reduce your utility bill while enjoying comfort through zone heating with your fireplace!
Some types of fireplaces are better than others for zone heating, such as gas fireplaces. It's also important to keep your chimney cleaned and functioning correctly to help it burn efficiently.
Aesthetics
It's important that you feel at home in your home. In addition to its functional benefits, a fireplace offers a unique visual appeal that you can't achieve with other decorations. Due to the variety of appearances and styles, you'll always be able to find a fireplace with a look that's consistent with your décor.
When it's in use, a fireplace can make any room feel more inviting. However, even fireplaces that are rarely or never used increase the appeal of a room, and therefore your overall home.
Adding a New Fireplace
Can You Add a New Fireplace to a Home Without One?
Yes! And it likely isn't as hard as you may think. There are many types of fireplaces and based on the style you want, it may be feasible with a minimal amount of construction. The major deciding factor is whether you have an existing flue.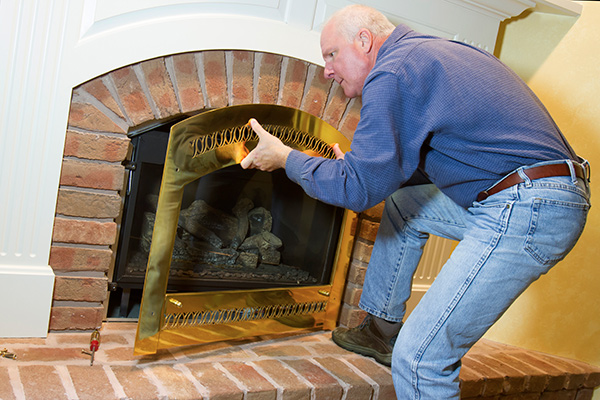 Most fireplaces require a way to vent the smoke or fumes produced by combustion. A flue is the only safe way to do this. If your home used to have a fireplace, it can be much easier to add a new one or upgrade it to a new type of fireplace. If not, there may be construction necessary to install one – unless you want a ventless gas fireplace.
Types of Fireplaces to Consider
Have you decided that you want a fireplace in your home, or to upgrade your existing one to a nicer, newer model? You have plenty of options to choose from!
When you think of a fireplace, you likely think of the traditional wood-burning fireplace. These burn real wood to create real fire and can be installed in almost any home that can be modified to vent the byproducts. While other types of fireplaces have come a long way, there's a unique charm to a classic, wood-burning one.
If you already have an open fireplace but don't use it due to inefficiencies or other concerns, a wood insert may be a great option for you! Wood inserts are modified to fit into your existing fireplace, revitalizing it and giving you a more energy-efficient model.
Not interested in chopping wood or cleaning up ashes? A gas fireplace may be your best option. The visual options for gas fireplaces are vast, giving you the choice of a very modern look or one that mimics traditional fireplaces.
If you're environmentally conscious, they burn relatively clean fuel, which produces the lowest levels of greenhouse gases compared to other fireplaces. They're also very energy efficient! Best of all, you can activate them with one simple switch.
Some homeowners have an existing wood-burning fireplace but want to make an easy switch to gas. No problem! Gas inserts, like gas fireplaces, operate using a cleaner burning natural gas to produce a flame and heat your home. However, a gas insert is placed inside an existing firebox to convert a wood-burning fireplace into gas!
These are fantastic for zone heating and can be even easier to install than a full gas fireplace. Inserts still give you a great variety of styles to choose from, too.

Improve Your Home Value with a Fireplace – Contact Doctor Flue!
The CSIA-certified experts at Doctor Flue can recommend the ideal fireplace for your home. Contact us today! We offer chimney services and products in Michigan and Ohio and can get you set up right away so you can have peace of mind.
Call Us: 1-800-438-3583
Email Us: office@drflue.com
Office Hours: Mon-Fri: 8am-4pm
Connect with Doctor Flue on Social Media