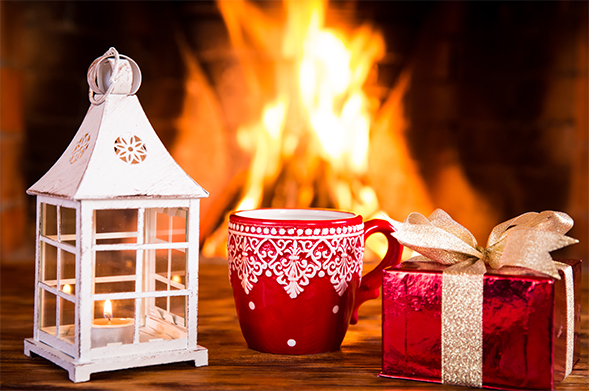 The holiday season is in full swing, and your fireplace is likely to take center stage in the celebrations and family gatherings. But is it ready for duty?
According to the American Red Cross, nearly 47,000 fires occur during the winter holidays, claiming more than 500 lives, causing more than 2,200 injuries, and costing $554 million in property damage. Many of these fires start in and around the fireplace, and many of those could have been prevented.
How can you keep your family safe while enjoying your fireplace during the holidays? Here are a few simple, but effective, seasonal fireplace safety tips.
Inspect in Advance
Before you strike a match, make sure your fireplace and chimney are in safe and ready-to-use condition. If you haven't had your chimney cleaned this year, make an appointment now. Then do your own visual inspection to check for potential chimney and fireplace issues.
Examine the exterior of your chimney. Look for chipped bricks or masonry joints, cracks or holes, and any leaning. If you have a pre-fabricated metal chimney, keep an eye out for corrosion, stains, or loose sections. Also, if you have an exposed chimney in your attic, be sure to check that area for issues.
Make sure you have a chimney cap. A good chimney cap can help reduce damage from water and wildlife. An uncapped chimney is exposed to snow and rain, which can cause expansion damage. Critters that crawl or fly into your chimney can create clogs with their nests, and might also bring fleas, worms, ticks, and other pests into your home. By installing a chimney cap with a mesh screen, you can protect your chimney from unwanted critters and damage from the elements.
Check for leaks and stains. Next, go inside and check around the chimney for any stains or dampness, which are potential signs of faulty flashing or a damaged flue liner. If you see any signs of water damage around your chimney, contact a professional chimney sweep immediately.
Inspect the flue. Find and open the clean-out door at the base of the chimney flue in your basement or outside. With a small mirror and flashlight, inspect the inside of the flue for any soot buildup, cracks, holes, or separation.
Check the interior of the fireplace. Look for any wear and tear on the brickwork of your fireplace. Make sure the damper opens and closes with ease. Check for soot buildup in the smoke chamber above the damper.
Beyond the chimney and fireplace, make sure your home has working smoke and carbon monoxide detectors on every level. Keep a working fire extinguisher on hand near the fireplace, as well.
Decorate Wisely
A beautifully decorated mantle can be a holiday masterpiece, but it can also be a fire hazard. Hang your stockings with care and move them or take them down when the fireplace is in use. Also, don't drape ribbon or greenery over the edge of the mantle; any stray sparks can ignite them.
Place Christmas trees – whether real or artificial – at least three 3' away from your fireplace Real trees should be taken down soon after the holiday. The longer a tree has been up, the drier it becomes, posing a greater fire risk with each passing day.
If you have young children or pets (or even if they're just visiting), keep them away from the fire with fireplace safety gates or screens. The screens will keep curious little ones out, but still allow adults easy access to tend the fire.
Learn What to Burn
If you have a wood-burning fireplace, only burn properly seasoned firewood in it. Never try to dispose of your Christmas tree in your fireplace. Dry needles can cause sparks, and unseasoned wood can create smoke and creosote. Safely dispose of your tree, or – even better – reuse and/or recycle your tree, if you can. (An old Christmas tree attached to a bird feeder post can provide great coverage for the birds all winter long.)
Keep all wrapped packages, gift boxes, or bags at least 3' away from the fireplace (along with other sources of heat or fire, like candles or portable heaters). And don't burn wrapping paper and boxes in the fireplace. The additives in decorative inks may give off toxic fumes if burned; plus, small burning pieces of the paper could float up the chimney, potentially causing a fire if your chimney hasn't been cleaned of all flammable debris.
Mind the Afterglow
When it's time to extinguish a wood fire, do it safely by:
Gently spreading out the wood and embers using the fireplace poker.
Covering the cooling wood and embers with ash using a fireplace shovel.
Adding a thin layer of baking soda to extinguish any remaining embers once the fire is visibly out.
Scooping up the ashes and placing them in a metal ash container after they've cooled for several hours or overnight. Store the container in a safe place outside of your home and away from any combustible materials.
Happy Holidays from Doctor Flue!
We hope you have a safe and wonderful holiday season filled with warm moments and memories.
If your fireplace or chimney and fireplace needs a pre-holiday inspection, contact us today! Then you can relax and enjoy your fireplace all winter long with peace of mind.
Call Us: 1-800-438-3583
Email Us: office@drflue.com
Office Hours: Mon-Fri: 8am-4pm
Connect with Doctor Flue on Social Media