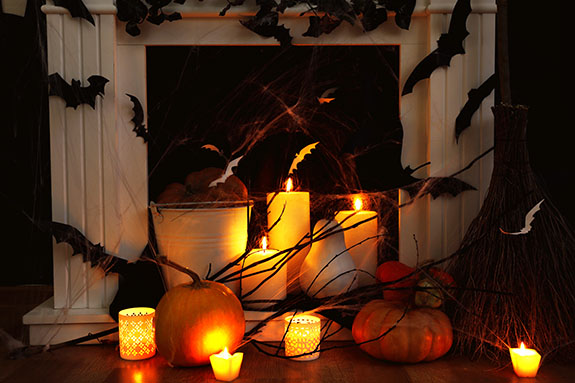 It's the most spooktacular time of year, especially when it comes to decorating. As you hang your spiders, witches, and monsters and carve your jack o lanterns, don't forget one of the most underused holiday decorating spaces - your fireplace mantel! We've got five simple Halloween fireplace decorations style ideas that you can easily use to give your mantel a fun holiday twist.
Scary
Bats and ghosts and skeletons, oh my! One easy way to bring some Halloween fun into your mantel decorating is by going the scary route. Creepy crawly critters, witch hats and "brews", spooky zombies and the like can all be incorporated using cutouts, stickers, webs, candles, and special figurines. You can even add a special touch with hidden speakers that play scary sounds and music.
Retro
Campy, fun, and quirky is also another great way to go with your mantel decorating. Retro silhouette cutouts, decorations from the 50s and 60s, and bright, bold colors will all bring a little fun, and funky retro look to your mantel.
Classy
For a classier look, focus on black and white decorations, candles, and pumpkins. Painted pumpkins are a great way to pull this look together. Take several small pumpkins and paint them with a black or white base and add some flair with stripes, polka dots, or ghost designs.
Bookish
For the bookworm, going the scary book route is a fantastic way to spruce up your fireplace. Wrap old books with white butcher paper and draw spooky faces and scary phrases on the bindings and covers. You can also work in quotes from timeless scary books such as The Raven, The Legend of Sleepy Hollow, Mary Shelly's Frankenstein, or Dracula.
Traditional
Finally, the tried and true traditional is always a good way to decorate your mantel for Halloween. Focus on blacks, whites, and oranges, carve pumpkins with standard grinning shape-based faces, and add some extra fun with Halloween bowls filled with traditional candies like candy corn.
Halloween is one of the best times of the year to bring some creative and festive decorating to your fireplace. You can focus on one of these decorating styles or mix up two or more. Have some fun with it!
About Doctor Flue, Inc.
Doctor Flue, Inc. is a chimney sweep company servicing Michigan and Ohio. For nearly 30 years, Doctor Flue has offered chimney and fireplace services including cleaning, inspections, repairs, installations, and more! Schedule your annual chimney cleaning and inspection or give us a call at (800) 438-3583 to get started today!
Connect with Doctor Flue on Social Media and share you spooktacular fireplace decoration ideas!