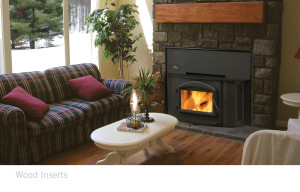 The cost of heating a home in Michigan and Ohio during the winter months can be painful for homeowners, but it doesn't have to be! Approximately 2 percent of American households use wood as their primary heating source, and according to one Michigan homeowner, using wood for fuel can save a good chunk of money. Bill Cook, a Michigan State University Extension forester estimates that he spends around $500 in firewood to heat his home for an entire winter. Compare that with an average 2013-14 Midwest natural gas bill of $713, and you may want to think more about investing in a wood-burning heat source.
Instead of using natural gas, electricity, or propane to run a furnace all winter, heat your home for less with a wood-burning heating source from Doctor Flue! We offer the following wood-burning products to help you efficiently heat your home during the cold months:
Wood Stoves – Wood stoves allow for very easy heat control and are most effective when used for zone heating. Zone heating is a great way to heat your home for less, as it allows you to heat only the areas in your home that you use most.
Wood Fireplaces – Wood fireplaces have a charm about them that can't be matched by any other heat source. Doctor Flue offers a wide selection of beautiful fireplaces that can transform any house into a warm and welcoming home.
Wood Inserts – A wood insert is like a wood stove that can be fitted and placed into an existing fireplace. They are an excellent way to efficiently bring warmth into your home.
Tips to Keep Your Home Warm
Another important way to lower your heating bill is to make sure that the heat that is produced stays warm and stays in your home.
To keep the warm air from escaping upwards, run your ceiling fans in reverse to push the warm air down.
Humid air tends to feel warmer - use a humidifier to keep the air moist.
Use weather-stripping and window insulation to keep cold drafts at a minimum.
Contact Doctor Flue!
To learn more about how to heat your home for less and to find out how to get a wood-burning fireplace, stove, or insert installed in your home, contact Doctor Flue today!
Phone: 800-438-3583
Email: office@drflue.com
Social Media: Facebook | Twitter | Google + | YouTube | Pinterest | Houzz