Many people notice odors coming from their chimneys even when a fire is not burning or hasn't been for a long period. There are many factors that produce undesirable odors from a dirty chimney including moisture, humidity, and particle build-up.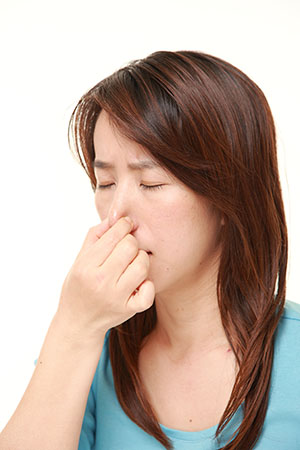 | | |
| --- | --- |
|  If Your Chimney  Smells Like… |  Then it's Most  Likely From… |
| Asphalt |  Cresote build up |
| Musty odor |  Water damage |
| Decomposition |  Damp soot |
| Animal scat |  Critters living in the  chimney |
Avoid Shop Vacuums!
Many homeowners think all they have to do is go to their local hardware store, purchase a shop vacuum and clean the chimney, but it's never a good idea to attempt to vacuum the chimney yourself. The problem is that shop vacuums lack the ability to filter the dust particles, and, as a result, forces those particles back into the room. It then gets picked up by the air condition or heating system in the home and deposits the particles inside the heating ducts. The entire house now has to be cleaned professionally at the cost of thousands of dollars.
Doctor Flue is here to help!
We lead the industry in chimney sweeping and inspecting by using the latest technology available for chimney inspecting and cleaning services. We are constantly upgrading our cameras and video inspection devices as well as our "power sweeping" or "rotary cleaning" tools. Our large HEPA filtered vacuum is treated with a chimney deodorant. It's not merely a cologne or perfume used to mask an undesirable smell; it's designed to absorb the odor.
Schedule your chimney cleaning today! Give us a call at 800-438-3583 or send us an email at office@drflue.com to request an appointment.
Connect with Doctor Flue on Social Media