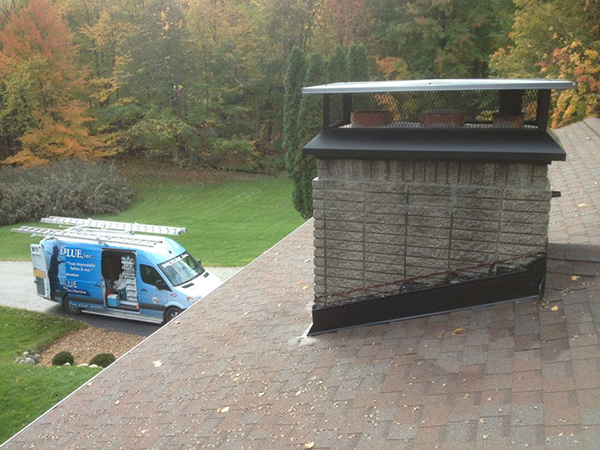 Cold weather ahead means it's time to ready your fireplace for winter of chilly days and freezing nights. But first things first: you need your annual chimney inspection! Be ready for the cold that comes! Don't wait until the first snow hits, the best time to clean your chimney is well before the temperatures drop.
Why Are Warmer Months the Best Time to Clean Your Chimney?
Because it's necessary to have your chimney inspected and cleaned every year, you'll be competing with a lot of other responsible homeowners doing the same thing. Whether your fireplace is decorative or used frequently, it's easy to forget it exists when the weather hasn't turned cold.
If you wait until the first chilly day of fall, you won't be alone! Everyone with well-seasoned wood from the previous year will be ready to throw those logs in their fireplace or start their gas fireplaces to fight the cold.
Those who put a note on their calendars or in their phones to remind themselves to schedule their inspection and cleaning between spring to summer will avoid the rush. As the temperature drops, they'll be ready to start a fire knowing their home and family is safe from the risks of a poorly kept fireplace or flue.
What If I Missed the Best Time to Have My Chimney Cleaned?
There's a saying "The best time to plant a tree is 20 years ago, the second best time is today." Even if you missed the easiest time of year to have your chimney looked at, that doesn't mean you should put it off until next year!
Busy season starts right as kids are gearing back up for school. If you haven't had your chimney inspected by fall, make sure to contact us sooner than later! The longer the fall season goes, the busier any chimney sweep will get. If there's a waitlist for inspections, it's best to get your name in early.
Skipping an inspection and cleaning isn't a small nuisance, it increases the likelihood of chimney faults and puts your home at risk.
Is a Chimney Cleaning Really Necessary?
We often get asked why homeowners should bother with a chimney inspection or cleaning at all! It's a major concern for us, because the answer is an emphatic "yes!" Just like any other maintenance for your home or car, chimney inspections and cleanings protect you and increase the longevity of your fireplace or other appliance.
Spring and summer aren't just the best time to clean chimneys due to beating the rush, it also makes sure your chimney is clear of safety hazards before the weather turns and you need to use it. Whether you have a wood-burning stove or a gas fireplace, any fire appliance that uses a chimney and flue needs maintenance every year to avoid the most dangerous risks.
Major Risks of Poor Chimney Maintenance
If you make the choice not to have your fireplace and chimney cleaned this season, here are some of the most serious issues you could face:
Chimney Fires
A chimney fire is by far one of the most dangerous aspects of poorly maintained chimney. Not only can they permanently damage your chimney, they can quickly spread to the rest of your home. Even more concerning, chimney fires are often hidden from view. You may not realize a chimney fire is happening until it spreads. If the fire dies on its own inside your chimney, you may never realize it – unless you have your chimney inspected.
A chimney fire leaves your flue and masonry damaged, making a follow-up chimney fire even more dangerous than the first.
Creosote Build-up
When you burn wood in your fireplace, a byproduct of combustion is left behind known as creosote. It builds along the inside of the chimney, growing in size and hardening. Creosote develops over three stages. At each stage, it becomes more difficult to remove, while presenting more of a risk to you.
Creosote risks primarily come from its toxicity. Contact with particles of creosote can irritate your skin, eyes or even your respiratory system. In long-term scenarios, creosote can be linked to cancer.
Lastly, creosote is one of the more common causes of chimney fires. Creosote can ignite, and when it does, it burns with intense heat. Burning creosote exceeds the heat flues and chimneys are designed to withstand, which can allow the fire to grow outside the chimney and damage your home.
Blockages
Sticks, debris and animal nests can all find their way into your chimney. With each additional object, your chimney's ability to exhaust heat and smoke from your home diminishes. Over time, this debris can fall and lodge itself inside the chimney where you can't see it – neither from the roof nor inside the firebox looking up.
Blockages can cause backpuffing which will fill your home with smoke and soot. It's no fun to clean ash and soot from your carpet and decorations!
When your chimney is blocked, the best way to ensure its fully cleared is with a full inspection and cleaning.
How Do I Find a Certified Chimney Sweep?
Now that you know the best time to clean your chimney, and understand the risks of skipping your annual inspection, you need to know how to find a qualified chimney sweep! While there are several ways to look up chimney sweeps in your area, here are the key things to look for:
Look for Certification – CSIA certification is key to ensure that your chimney sweep understands and follows the best practices for thorough inspections and cleaning.
Read Their Reviews – Being certified is necessary, but it's not the only important part of being a good chimney sweep. Read reviews online to see the experience that others have had before you make your decision.
Check Their Schedule – While spring and summer are some of the best times to clean your chimney, it quickly leads into the busy fall season. Once you've found a reliable chimney sweep, don't assume you can wait! Make the call and schedule your appointment as soon as possible to guarantee your chimney's safety for the cold weather ahead.

Ready for Your Chimney Inspection? Call Doctor Flue!
If you haven't had a chimney inspection in the last year, or following an event like a chimney fire, contact us today! Doctor Flue offers chimney services in Michigan and Ohio and can inspect your chimney and identify any potential risks. We'll get you set up right away so you can have peace of mind.
Call Us: 1-800-438-3583
Email Us: office@drflue.com
Office Hours: Mon-Fri: 8am-4pm
Connect with Doctor Flue on Social Media