When is the Best Time for Chimney Masonry Repair? Now!
With warmer weather on its way, why should you be thinking about chimney inspection and chimney masonry repair? Because now is the optimum time to find out if there are any problems and correct them, while good weather is still on your side.
Over the winter, your chimney's masonry – the bricks and mortar or other material that extend the chimney– may have been damaged by the elements. All masonry chimney materials eventually deteriorate as a result of prolonged contact with water. But the freeze-thaw cycle we're so familiar with in Michigan and Ohio accelerates that process because when the moisture within the masonry freezes, it expands and causes stress. Not only that, water penetration can cause other interior and exterior chimney damage, such as:
Rusted damper assemblies
Deteriorated metal or masonry firebox assemblies
Rusted fireplace accessories and glass doors
Rotting adjacent wood and ruined wall coverings
Deteriorated central heating system
Cracked or deteriorated flue lining system
Collapsed hearth support
Tilted or collapsed chimney structure
Take Action Before Bad Weather Returns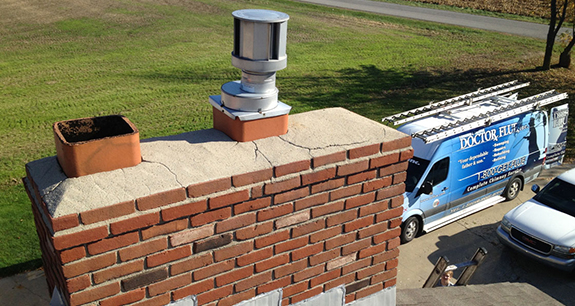 How and when should you start? Start now by scheduling a chimney inspection so you have time to make masonry repairs before winter. Repairs done on masonry require time and warm, dry conditions to cure properly. If you discover early what needs to be done, you can plan ahead and take advantage of the summer weather.
If you need an extensive chimney repair, or it just isn't a job you want to tackle on your own, contact Doctor Flue! We offer comprehensive chimney repair services. Our certified technicians are trained in the latest repair methods, and all chimney damages are fully documented with photos and video scan, when accessible, allowing us to show and explain to you the issues the same day as the inspection.
However, if the damage isn't extensive, you can make some simple chimney repairs if you know what to look for and how to properly mend the damage. Again, these repairs should only be done during warm, dry weather – not only for safety's sake, but to allow the materials to properly cure.
Repairing or Replacing a Damaged Chimney Crown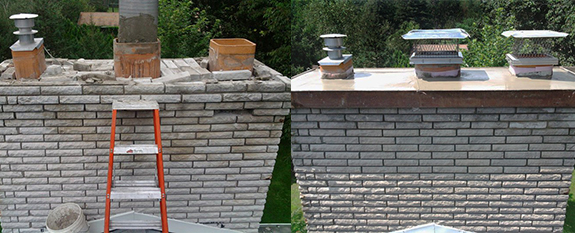 The chimney crown is the top element of a masonry chimney and holds the chimney cap in place. It covers and seals the top of the chimney from the flue liner to the chimney edge. Over time, moisture and those freeze-thaw cycles can cause cracks to form in the crown. Sealing the chimney crown with crown sealer – a flexible elastomeric coating – is the best way to stop existing cracks from spreading and prevent new ones. Prepare the crown by cleaning it with a stiff poly or nylon brush. Fill any large cracks with patching cement or 100% silicone caulk. Tarp around the chimney and apply two coats of crown sealer, forcing it into any cracks.
Repairing Deteriorated Mortar Joints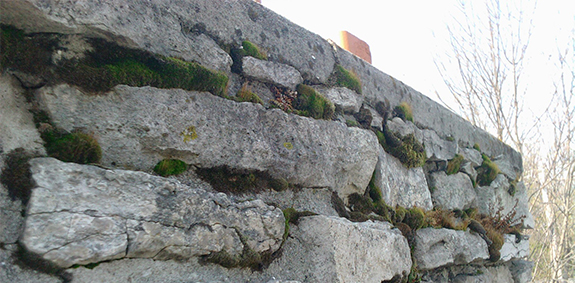 When mortar deteriorates from exposure to weather, it becomes much more absorbent, making it easy for even more water damage to occur. A common repair for deteriorated mortar joints is called repointing. In this process, the existing mortar joint is cut to an appropriate depth and the joint is repacked with new mortar. The joint is then cut to form a concave surface that will direct water out of the joint. A good repointing job, done with proper materials, will give the chimney a much longer life span and newer appearance.
Protecting Your Chimney from Water Damage
Many types of brick can act like a sponge, absorbing water then wicking the moisture to the chimney interior, where it can do even more damage. However, there are several water-repelling products available for masonry chimneys. These formulas are 100% vapor permeable, which means that they allow the chimney to "breathe." Water vapor produced during application is allowed to escape, while the water repellent prevents water from entering from the outside. Water repellents can be applied by hand or with a sprayer (make sure any surrounding shingles are covered by a tarp); expect to pay $25-$40 per gallon for them. But remember that waterproofing is a preventive measure. When damage or deterioration already exists in a masonry structure, it should be repaired and allowed to cure 3-4 weeks before the water repellent is applied.
Perfect Your Chimney This Season
Take advantage of the warm, weather ahead – and our off-season availability – by scheduling your chimney inspection today! Schedule appointment now and your chimney will be ready when those cold winds roll in!
Connect with Doctor Flue on Social Media