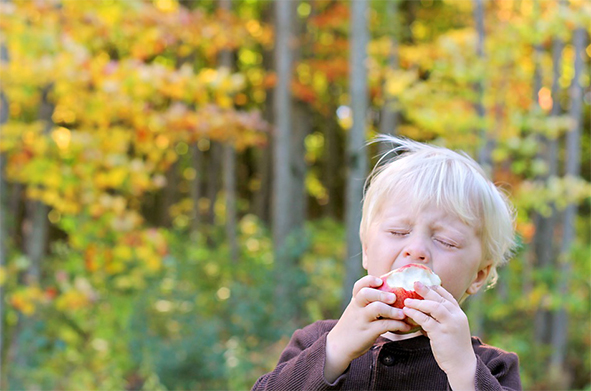 Fall enthusiasts – your favorite time of the year is here! If you love cider, apples, hayrides, and falling leaves – and maybe a few thrills and chills – then you'll find plenty of fun fall attractions near Toledo, OH.
If you haven't had a chance to put together your fall-fun itinerary, don't worry. We've compiled a list of some of the top fall activities around the Toledo and Maumee area. Here, you'll find great activities for every member of the family, including indoor and outdoor options for fun in any kind of weather.
Outdoor Activities
Parks & Recreation – If you enjoy the great outdoors, put on your hiking shoes and head to one of our many area parks. The Maumee/Toledo area has a fantastic network of Metroparks, with each park offering spectacular scenery and a variety of activities and events.
Apples to Apples – It's just not fall without a weekend trip to an apple orchard, and this area has one of the best! MacQueen's Orchards boasts 16 varieties of apples and 10 varieties of peaches, plus plenty of activities, baked goods, and gifts to top off your visit.
Weekend Getaway – For a fabulous day trip or a wonderful weekend, take a drive to Maumee Bay State Park. Get up close and personal with nature as you enjoying miles of trails that will take you through swamp and marsh wetlands, open meadows, ponds and beaches. Take in great views of Lake Erie while you hike, bike or even cross-country ski during the winter. If you want to extend your stay, book a beautiful room at the lodge or one of their fully-furnished cabins.
Indoor Fun
Vintage Appeal – Antiquing is almost as much a fall staple as cider and donuts, and the Maumee/Toledo area has plenty of places to treasure hunt, including the  Maumee Antique Mall.
Shop 'Til You Drop – Ready for a retail quest? The shopping possibilities in this area are almost endless! If you're a fan of fashionable malls, check out Franklin Park Mall, The Shops at Fallen Timbers, and The Towne Center at Levis Commons for some un-common finds!
Make a Splash – Spend the day rocketing down gigantic water slides or relax in the lazy river or the heated spa – you can do either (or both) at the Splash Bay Indoor Water Park! It's a great day or weekend destination for water-loving families.
Chills & Thrills
Haunted History – Take a Garrison Ghost Walk at historic Fort Meigs – Ohio's most famous battlefield in The War of 1812. Staff, volunteers, and visitors have reported encountering strange lights, sounds, and even ghostly apparitions of soldiers in and around the fort!
Quintessentially Quirky – Not your usual arts & crafts show, The Oddmall: Emporium of the Weird celebrates all things odd, geeky, bizarre, horrific, and Halloween-y. You'll find hundreds of artists, performers, cosplayers, collectors participating in the freaky, funky fun.
For the Little Goblins – There's Halloween fun for all ages at the Toledo Zoo's Pumpkin Path. In addition to costumed trick or treating for all ages, there will be games, artistic pumpkin carving demonstrations, bounce houses and magic shows! For the littlest boos, there's Little Boo at the Zoo, where toddlers and pre-school aged children can trick-or-treat throughout the Zoo and enjoy crafts and games sized just for them!
Enjoy Fall with a Cozy Fire
Make sure your chimney and fireplace are ready for the crisp fall days ahead with a cleaning and inspection. Give us a call at 800-438-3583 or send us an email at office@drflue.com to request an appointment.
Connect with Doctor Flue on Social Media
Facebook | Twitter | Google + | YouTube | Pinterest | Houzz