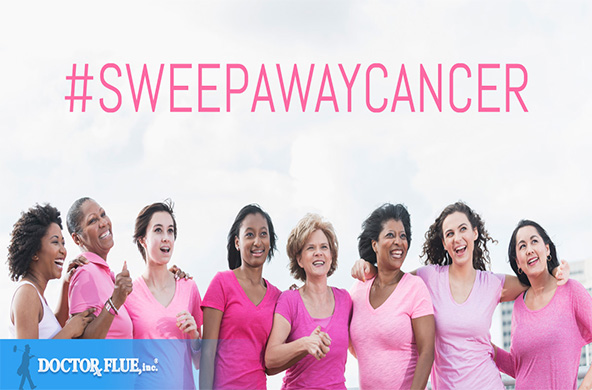 October is going pink and so is Doctor Flue, inc.! In support of Breast Cancer Awareness month – and in support of the women, communities, and family and friends touched by this disease – our staff will be adding a touch of pink to our signature blue.
Our staff and technicians are donning pink gloves throughout the month of October to show support for all who have been impacted by breast cancer. We'll be joining chimney sweeps around the country in the Sweep Away Cancer movement to raise breast cancer awareness and to provide information and funding to help support cancer patients and their families.
If you'd like to show your support for Breast Cancers Awareness, there are plenty of area events which also promise to raise some fun while raising funds for cancer research, education, and patient support. Here are just a few:
Breast Cancer Awareness Month Events in Ann Arbor
In Ann Arbor, you can walk for a good cause at the American Cancer Society's Making Strides Against Breast Cancer Event. If that's not your cup of tea, the Hats and High Tea event sponsored by the Michigan Breast Cancer Coalition, may be more to your liking. Would you rather enjoy a different beverage while supporting breast cancer awareness? Several restaurants and taverns around the city are donating a portion of their proceeds from the sale of special food, drinks, and merchandise during the Think Pink Go Blue event.
Breast Cancer Awareness Month Events in Toledo and Northwest Ohio
In the Northwest Ohio area, the annual Susan G. Komen Race for the Cure is more than a race – it's an event filled with fun, music, laughter, tears, memories, and strength. Bring your team and join survivors and supporters at either the Toledo race or the Findlay event. Other Susan G. Komen sponsored events include Pink in the Rink for Walleyes hockey fans and Pink at the Park for Mudhens baseball fans. More of a brunch fan than a sports fan? Bring your favorite headwear and join others for breast cancer awareness at area Hattitude brunches.
Whether you support breast cancer awareness with education, a donation, event participation, or being there for friends, family, or colleagues affected by the disease, you can make a difference. Stand with us to help end breast cancer.
October is Here. Is Your Fireplace Ready for Winter?
Make sure your chimney and fireplace are ready for the crisp fall days and coming winter with a cleaning and inspection. Give us a call at 800-438-3583 or send us an email at office@drflue.com to request an appointment.
Connect with Doctor Flue on Social Media
Facebook | Twitter | Google + | YouTube | Pinterest | Houzz
#RealSweepsWearPink
#SweepAwayCancer
#DoctorFlueCares