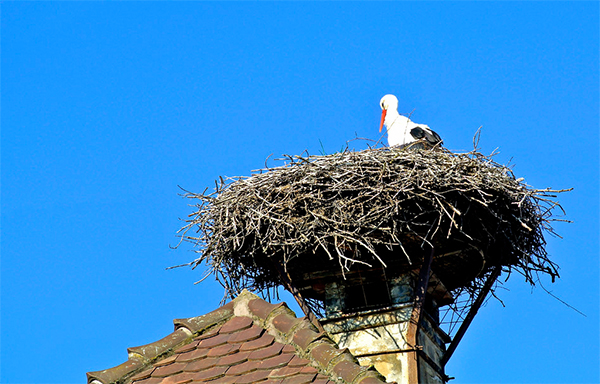 A fireplace can be the centerpiece of a house. It's a place where families gather to talk about the big – or little – events in their lives. It encourages everyone to slow down for a moment, to put down the tech toys and pull up a book, blanket, and a favorite beverage.
Generally speaking, fireplaces are low maintenance. A ready supply of fuel and the occasional cleaning and inspection are all that's needed to keep them looking great and operating as they should. How often should your chimney be cleaned and inspected? That depends on the kind of fireplace you have, how you use it, and whether or not uninvited "guests" are calling it home.
Wood-Burning Fireplaces
There's nothing like a wood-burning fireplace – you get all the sights, sounds, smells, and warmth of a crackling fire. But you also get soot and creosote – the flammable byproducts that can build up in a chimney, reducing its efficiency and causing a potential fire hazard.
So, when should you clean your chimney out if you're burning wood? According to The Chimney Safety Institute of America, chimneys should be cleaned when 1/8″ of sooty buildup is evident inside the chimney and flue system. But since the average homeowner really doesn't want to grab a ruler and climb into their fireplace, a good rule of thumb is to have your fireplace cleaned and inspected at least once a year.
That being said, what if you do feel like poking around in your chimney and you notice a "glaze" on the flue? In that case, you should schedule a chimney inspection and cleaning immediately! That glaze is a highly flammable form of creosote which has accumulated on top of other creosote layers before they've dried out. This often happens when the chimney is larger than the vent opening on the appliance (causing sluggish draft), when unseasoned or wet fuelwood is burned, or when the draft control on an airtight appliance is set too low, causing the fire to smolder. This type of creosote is difficult and time consuming to remove; this is a job best left to chimney cleaning experts!
Gas-Burning Fireplaces
Gas-burning fireplaces are convenient. There's no wood to chop and haul, the fire ignites – and extinguishes – in seconds, and there are no ashes to sweep up. But does that mean you don't need to have your chimney cleaned and inspected? Definitely not.
Although gas is a clean-burning fuel, other problems can develop over time. Ceramic logs can deteriorate and clog vents, causing them to malfunction. Valves and connections could develop leaks. Thermopile and thermocouples can wear out or need cleaning. Plus, If the exterior chimney has a cracked crown or if the mortar joints are in poor condition, moisture can enter the chimney system and cause the flue tiles to break off. An annual inspection performed by certified technician can detect these issues before they pose a danger to you or your family.
Seldom-Used Fireplaces
What if you rarely use your fireplace – do you still need it cleaned and inspected? The answer is yes. An unused chimney can look like home sweet home to a birds, squirrels, and other curious wildlife. Their nests and other debris they may leave behind can inhibit the proper chimney ventilation, possibly leading to a dangerous buildup of carbon monoxide.
Not only that, if you use a gas-operated appliance, such as a furnace or water heater, it relies on the chimney for proper exhaust venting. Appliances fueled by natural gas or propane may not produce visible soot, but they can deposit corrosive substances in your chimney. In many cases, these substances can wreak havoc on your chimney without producing any external symptoms. Without regular inspections, you won't know there is a problem until it turns into a dangerous situation requiring an expensive repair.
If you suspect your chimney is a "critter condo," have it inspected and cleaned annually. The best time for this is late summer/early fall, after they've raised their young and moved on. If your chimney is only used for venting gas appliances, contact a certified chimney cleaning expert to determine a cleaning and inspection schedule that works best for you.
Now Is the Perfect Time to Schedule a Chimney Cleaning and Inspection!
Take advantage of off-season availability and have your fireplace ready for the first fall chill! Give us a call at 800-438-3583 or send us an email at office@drflue.com to request an appointment.
Connect with Doctor Flue on Social Media
Facebook | Twitter | Google + | YouTube | Pinterest | Houzz