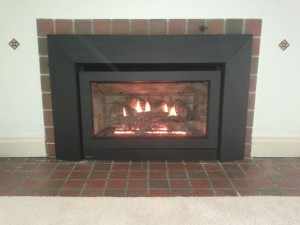 Gas Fireplaces are more than likely to be put to work with the promise of colder weather just around the corner. Luckily, fireplace installation in Ann Arbor is available through the hard-working men and women at Doctor Flue, inc.
However, with ownership comes great responsibility in maintaining gas fireplace safety. That is why Doctor Flue feels it is important to join the safety initiative adopted by the Hearth, Patio and Barbeque Association (HPBA) and educate the 11 million Americans that currently own fireplaces.
For fireplaces manufactured after January 1, 2015, it is required that a protective barrier, such as a safety screen, be installed to help prevent burns caused during fireplace operation and cool down times. For gas fireplace consumers, HPBA recommends that you follow these safety tips in assuring your protection and those around you.
Supervise children, the elderly, infirm, and pets near an operating/cooled down stove, insert, or gas fireplace.
If your appliance has a remote control, please keep this out of the reach of children.
Prevent a child from turning on the appliance by installing a switch lock.
Make it known to everyone that the fireplace, stove, and insert is very hot.
Wait an hour after turning the appliance off before approaching.
Be aware of the metal surfaces, door frames, and grilles that additionally get hot.
Always read and follow instructions in the owner's manual.
To secure the safety of your gas fireplace or check if it is working properly, it is always a good idea to schedule regular routine maintenance and service. Meet with your National Fireplace Institute (NFI) certified professional today and ask about the following tasks:
Millivolt output adjustment
Cleaning & adjusting the glowing embers and logs for best appearance
Cleaning the fan and all other related air circulation passages
Glass cleaning
Checking batteries in the carbon monoxide detector
Checking vents and clear out any obstructions
Call Doctor Flue
Having a NFI professional install and maintain your fireplace is essential as it affects the overall performance. When establishing the safety and quality of your appliances, Dr. Flue offers the right solution for your house and budget. Give us a call today at 1-800-GET-FLUE or visit us online at www.doctorflue.com.