Congratulations to our very own Kevon Binder for his recognition by the Lenawee Intermediate School District (LISD) as the 2018-2019 LISD Volunteer of the Year!
Kevon was recognized at the 2018-2019 LISD Staff Recognition Reception that took place on Friday, June 7, 2019 at the Madison Schools' Performing Arts Center for his support of the Tri-County (Hillsdale, Lenawee, Monroe) Science Fair hosted at Adrian College this past February.
Technology in Action
Kevon used his technology expertise to build an iPad scoring solution for the science fair. His system helped score based on specific criteria and collect judge feedback via photo, video, audio, or text about each project. Kevon also built a web interface that allowed teachers to log in through a web browser and review student scores and the feedback left for each project. The addition of the iPad scoring was welcomed by all for its ease-of-use and convenient access to project feedback.
[caption id="attachment_2908" align="aligncenter" width="400"]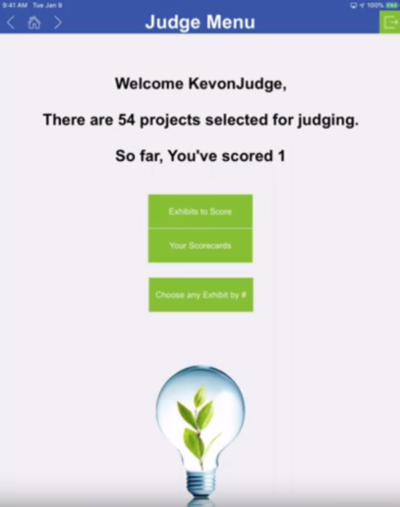 Tri-County Science Fair Scoring App[/caption]
The system was built using FileMaker 17 and run as a hosted app on an Amazon Web Services. View the tutorials:
Tutorial for Judges - https://youtu.be/Wd6AL2SnRm8
Tutorial for Coordinator - https://youtu.be/0SkQapIYcaY
The iPads were provided by the LISD and set up prior to the event with help from the organizer Jenny VanDaele-Coury, Curriculum Consultant at LISD.
Special thanks to Jenny for making this volunteer partnership possible! As a volunteer judge for the Blissfield middle school science fair in 2018, she had worked with Kevon to help the 8th grade class build a similar 'app' to judge their own event. With the success of that event, Jenny felt the Tri-County Science Fair would benefit greatly from their own version.
Meet Kevon
Kevon R. Binder is the son of Doctor Flue, inc. owner, Kevon H. Binder a.k.a. "Doc," and was the youngest CSIA certified chimney sweep on record at the age of 15. Kevon is also the in-house developer responsible for building, updating, and managing the Doctor Flue customer management system. In order to work efficiently and provide professional service to clients, Doctor Flue utilizes a custom database application on iPads while in the field.
[caption id="attachment_2898" align="aligncenter" width="600"]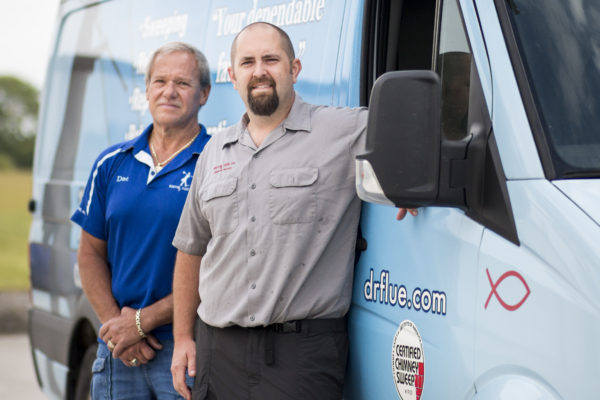 Doc (left) and Kevon (right) of Doctor Flue, inc.[/caption]
He continues to recertified every 3 years and is responsible for managing field operations, large projects, and offers in-home fireplace consultations. Kevon's passion and skill with technology has helped Doctor Flue stay on the cutting-edge of the industry.
"I enjoy the interaction with the public, and I get to work closely with two of my passions: Technology and Fire," said Kevon.
[caption id="attachment_2899" align="aligncenter" width="600"]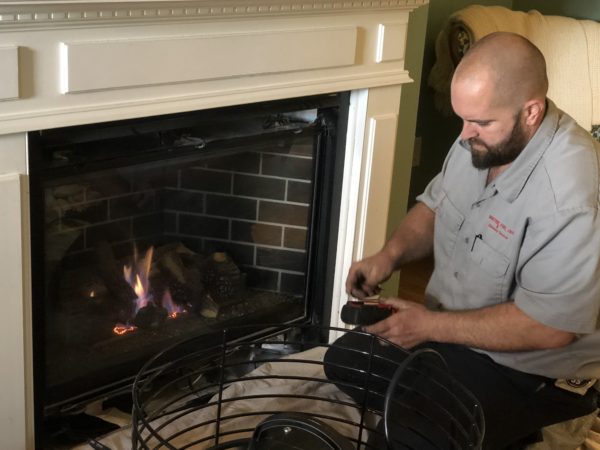 Kevon Binder of Doctor Flue servicing a customer's gas fireplace.[/caption]
About Doctor Flue, inc.
At Doctor Flue, a nationally certified sweep drives each of the trucks that leave our business daily. Our sweeps are equipped with the latest technological tools and diagnostic equipment.
We pride ourselves on being a company who will return your calls promptly, answer your questions thoroughly, treat you with respect and exhaust all possible options for solving your heating system needs. We show up on time, protect and respect your property, and offer a fair price for superior products and superior services.

Keep Your Michigan or Ohio Chimney Safe – Call Doctor Flue!
We can inspect and repair your fireplace, stove or chimney to fix any problem! Contact us today to schedule an inspection to help keep your home safe and your fireplace ready for winter.
Call Us: 1-800-438-3583
Email Us: office@drflue.com
Office Hours: Mon-Fri: 8am-4pm
Connect with Doctor Flue on Social Media