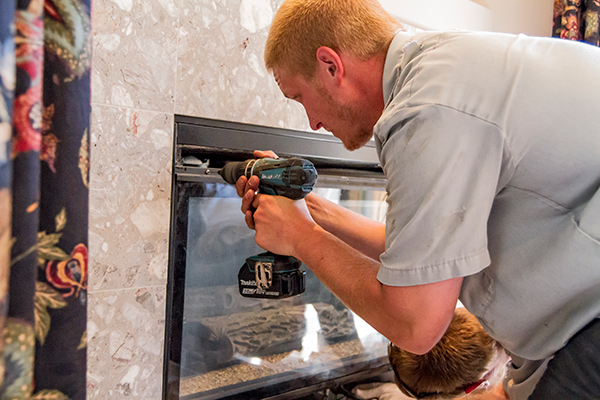 Want to give your home a facelift but aren't sure where to start? Try your fireplace! If your home hasn't been built in the last decade or two and has a fireplace, it's almost a certainty that you have a wood-burning fireplace. But you can convert your wood fireplace to gas – bringing a wealth of benefits and new appeal to your home.
Why It Makes Sense to Convert from a Wood Fireplace to Gas
Update Your Home with a Modern Look
Fireplaces are a focal point for most home designs. They lend a sense of "home" to whichever room they're in and can truly tie a room together. But modern homes deserve modern fireplaces, and while the traditional wood-burning fireplace hasn't become obsolete, a gas fireplace can be the perfect way to finish (or even start) a remodel!
Gas fireplaces and the decorative accessories that go with them give you nearly infinite options for recreating the look of your home's existing fireplace. While many homeowners choose to go with a sleek modern aesthetic, there are plenty of gas inserts that retain the classic appearance of a standard wood-burning fireplace too.
Ultimately, the decision is yours – something that often isn't the case if you purchased a home that was already built. Existing wood-burning fireplaces are much more integrated to your home's structure – leaving them difficult to change significantly. That's not the case with a new gas insert!
A More Convenient Fireplace
Maintaining a wood fire can be a chore. Whether you chop your own wood or buy it, you still have to transport it, start the fire, constantly stoke the flames and make sure the fire isn't growing out of control. By the time you have a good fire going, you'll be too exhausted to enjoy it!
A gas fireplace, on the other hand, can be a literal push-button operation. Did you come home to a chilly house and want to zone heat your living room? Grab the remote, turn your fireplace on and relax. In just seconds, you can get a generous fire going without struggling with starter logs or newspaper.
When you're finished, you can simply turn it off and go to bed, too. Many homeowners don't realize the importance of watching a wood fire until it's completely extinguished. It can take a while and walking away from a burning fire is always a safety hazard. Gas fireplaces avoid the problem entirely!
Cleaner Home & Air
No wood, paper or other starters also means a cleaner home! Converting from a wood fireplace to gas will have a noticeable effect on improving your home's atmosphere and cleanliness.
For starters, gas inserts mean no more after-fire maintenance. Ash left behind from combusted wood needs to be cleaned out between uses, after it completely cools. Gas inserts don't leave behind much physical soot. You'd also be surprised how often insects and dirt will sneak into your home just from bringing in logs from your storage pile!
A properly vented gas insert will also vent away most of the residue from combustion. You'll avoid the uncomfortable greasy layer of soot that can be vented into your room from a wood fireplace.
No More Wood Storage
Properly storing wood is a critical part of using a wood fireplace. Even if you buy wood, you'll typically want to have a stockpile of extra wood – especially as the chill of winter begins to set in. That means several things:
You need space to store logs
You need a pallet or holder to keep logs off the ground to avoid moisture
You also need a tarp to prevent snow or rain from soaking logs directly
For many homeowners, this can feel like a chore just to enjoy your fireplace.
On top of the storage, buying wood isn't always cheap. The best logs for burning are dense woods that have been properly seasoned. While individual logs won't cost you an arm and a leg, a particularly frigid winter can mean hundreds of logs used throughout the season. It adds up!
Improved Efficiency
Gas fireplaces, though also varying in efficiency, have strict efficiency ratings that let you know how effective they are at burning and heating. Many gas inserts can have efficiency ratings upwards of 90 percent, though most average to between 65 and 80 percent.
For those looking to heat their home or generate heat with as little waste as possible, gas inserts are a great option.
Better Home Safety
The idea of introducing another gas appliance to your home gives some people pause. But a gas fireplace is far safer than a wood-burning one! The main concern is, of course, the gas itself. But all modern gas fireplaces feature safety shut-off systems to help prevent leaks and eliminate exposure hazards.
When you burn wood, it requires a level of care and awareness to avoid dangerous mistakes. It can be hard to control a raging fire after it starts to get out of control.
More importantly, gas inserts don't require you to interact directly with the fire to maintain. It only takes one spark flying from a wood fireplace to start a house fire. Improperly maintained wood chimneys are also a major source of creosote build-up, making a chimney fire more likely.
Should You Get a Vented or Vent-free Gas Insert?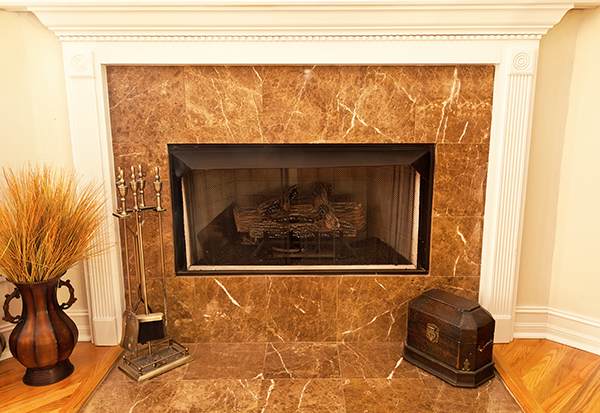 Looking at gas inserts and not sure where to start? The biggest decision you'll make is whether to go with a vented gas fireplace or a vent-free one.
For most homeowners converting a wood fireplace to gas, it makes sense to have a fully vented gas insert installed. While gas produces fewer byproducts of combustion than wood, there are still potential pollutants and irritants. Your insert can be built to vent straight through the existing flue from your fireplace – making the most of your existing masonry while keeping the benefits of your new gas insert!
However, if your home doesn't have a functional chimney or if you want to install your gas fireplace in a different room, vent-free is an option.
Vent-free gas fireplaces are great for zone heating a home – essentially all of the heat generated from them is transferred into your home, because everything is vented straight into the room where it was installed.
However, the downside is that a vent-free fireplace also means higher amounts of pollutants in your home. This can undermine one of the main advantages of converting a wood fireplace to gas. But if your goal is to spruce up a room with a unique fireplace or to zone-heating a new family room, it can be a popular option!
Just make sure you take special care to circulate air and allow another option for ventilation to keep your air clear and comfortable.
Get a new Gas Insert Fireplace Today – Call Doctor Flue!

We can recommend gas fireplace inserts for your home and even perform the conversion for you! Contact us today to schedule an inspection to help keep your home safe and your fireplace ready for winter.
Call Us: 1-800-438-3583
Email Us: office@drflue.com
Office Hours: Mon-Fri: 8am-4pm
Connect with Doctor Flue on Social Media