Leaking chimneys cause a whole host of problems, including rust, rotting, water stains, and, in severe cases, chimney collapse. There are several different factors that play into your leaky chimney. We here at Doctor Flue are experts in identifying the causes of a leaky chimney and repairing the damage. We've compiled a list of five reasons you have a leaky chimney:
Damaged Chimney Crowns
Damage to the crown occurs for a couple of reasons. There could be shifting of the structure or issues stemming from how the crown was originally installed. Once the crown is severely damaged, only a chimney repair professional can fix the issue. Otherwise, you'll find yourself with water seeping through the cracks. However, if the damage is small, you can protect the crown from deteriorating further with a crown coating material.
Deteriorating Mortar Joints
The mortar joints are the spaces between bricks on your chimney that are filled with mortar or grout. If the mortar joints become weak from exposure, they're much more absorbent, which allows water to seep through your chimney. Any gaps or missing bits of mortar can be repaired by a process called repointing. The process involves cutting the existing mortar to an appropriate depth and replacing it with fresh mortar. A good repointing can give your chimney a much longer life span, and enhance its appearance.
Worn Out Flashing
Flashing is the seal between the roofing materials and the chimney that prevents rain and snow from running down the chimney, where it can then damage ceilings and walls. Properly installed flashing will expand and contract at the proper rate, however, worn out flashing can break the waterproof seal between the unique roofing and chimney materials, which allows water to seep in. If you notice any leaking where the roof and the chimney meet, contact us immediately for flashing replacement.
Cracked Bricks
Cracked chimney bricks are an obvious source of leaking and easily spotted. Although waterproofing a chimney is something you can do on your own, you need be careful about what materials you use. Normally, when water is absorbed into brick or mortar, it dries on its own, especially during the summer months. However, if you apply the improper waterproofing material, it can block the pores, trapping the water inside. It can then leak into your home. If you choose to waterproof yourself, use only polysiloxane agents, as silicone sealants trap more water.
Rain Access
Finally, the most common culprit for chimney leakage is standard rainwater. The opening at the top of the chimney allows not only rain to pass through easily but also other debris and even small animals. The best way to avoid this potential issue from happening is by installing a properly fitting chimney cap. The cap prevents anything from getting down to the bottom of your chimney and causing a potentially serious blockage.
Leaky Chimney? We Can Fix That!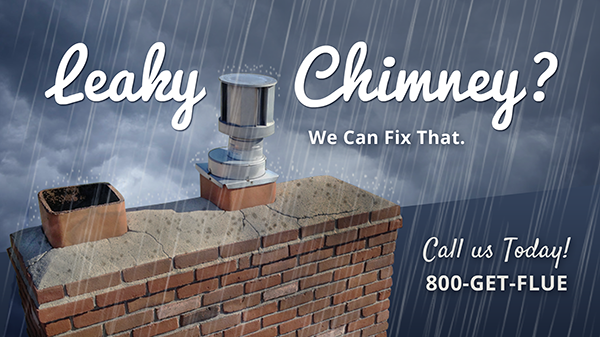 Summer is the perfect time of year to have your chimney inspected and repaired. If you're seeing signs of chimney leakage or just want to make sure all is in good working order, contact us today!. Our CSIA-certified technicians are trained in the latest repair methods and help save you time and money.
Contact us online or give us a call at (800) 438-3583 to schedule your service appointment today!
Connect with Doctor Flue on Social Media for more Summertime Tips!
Facebook | Twitter | Google + | YouTube | Pinterest | Houzz