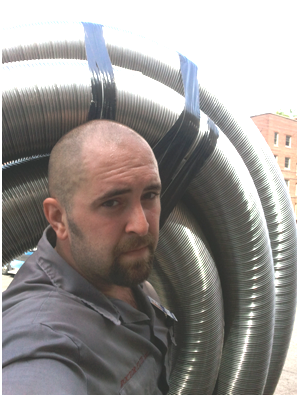 When is the last time the liner on your chimney was inspected?  Is your chimney liner in good shape?  Regular chimney inspections, including inspecting the chimney liner, can prevent damage and expense later. But if you do need a Chimney Relining in Michigan, Doctor Flue can help!
What is a Chimney Liner?
A chimney liner is what protects a home from heat transferred through the chimney. In fact, tests have shown that a chimney without a liner can lead to fire in the adjacent woodworking in as little as 3 1/2 hours. This should make it clear to any homeowner that inspecting and maintaining their flue lining is something that is critically important. Fortunately, the experts at Dr. Flue can handle everything from chimney relining and chimney inspections, to maintenance and repairs.
A chimney liner also protects the masonry from the acidic gases that can literally eat away at the joints of the mortar inside the chimney. If the joints of the mortar are allowed to erode, heat will transfer much more rapidly and can lead to dangerous gases like carbon dioxide being leaked into the living areas.
Why Should You Schedule a Chimney Relining in Michigan?
It is also important for a home to have the right size flue. The correct liner allows appliances such as oil furnaces and gas stoves to perform the way that they were intended. If a home has an incorrectly sized liner installed, excessive creosote can build up, leading to potential fire hazards.
When it comes to the flue lining in a chimney, a reliable chimney service like Dr. Flue ensures that everything is handled properly and that there are no hidden problems that need to be addressed.
Using the latest technology to inspect and the most efficient cleaning methods available, the Dr. Flue chimney service can ensure that your home chimney is clean and operating as efficiently as possible. From chimney relining to annual inspections, it pays for a homeowner to rely on expert individuals who have the knowledge necessary to ensure that their home is safe and ready for the cold winter months ahead.

Contact Doctor Flue
The CSIA-certified experts here at Doctor Flue offer chimney services and products in Michigan and Ohio and can inspect your chimney and help close it for the season. Contact us today! We'll get you set up right away, so you can have peace of mind.
Call Us: 1-800-438-3583
Email Us: office@drflue.com
Office Hours: Mon-Fri: 8am-4pm
Connect with Doctor Flue on Social Media