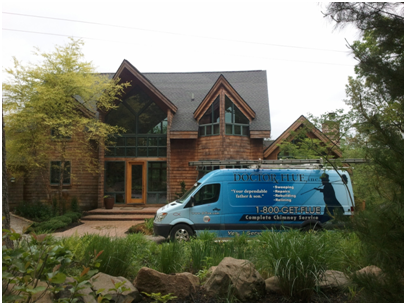 Ever hired an unreliable or unprofessional chimney sweep?  If so, you know that individuals that are not experienced or properly trained when it comes to correctly cleaning a chimney can leave behind a mess and may even do unseen damage in the process. This is why many homeowners in the area have turned to Dr. Flue for professional chimney cleaning.
All chimney sweeps employed by are certified by the Chimney Safety Institute of America, the National Chimney Sweep Guild.  We have the certifications, knowledge, and experience necessary to get the job done right the first time.
When a home owner hires a certified chimney sweep from Dr. Flue, they will be greeted by professionals who use the latest technology to both inspect and clean your chimney. This means that any unseen problems or potential hazards will be quickly identified, which can save a home owner a great deal of time, money, and hardship.  Because the equipment that Dr. Flue uses - such as the video inspection devices, rotary cleaning tools, and power sweeping equipment - are upgraded on an on-going basis, you can rest assured that you're are getting the greatest value for your money.
Professional Chimney Cleaning that Stands Out
The vacuum filters that are used when cleaning a chimney are inspected and cleaned every single day so that a person's home stays clean and free of any contaminants. Our chimney cleaning experts from Dr. Flue also make use of runners and drop cloths so we don't soil your carpet or dirty the flooring in your home.
We even deodorize our system at no additional cost to the customer. It is easy to understand why individuals throughout Michigan and Ohio rely on Dr. Flue when it comes to chimney cleaning.
More Than Just Cleaning Services
Doctor Flue offers a wide range of services to help you maintain the structural integrity and functionality of your fireplace and its chimney. Additionally, if you don't currently have a fireplace, but would like to install one, Doctor Flue can help!
Whether you want to install a new fireplace, get ready for fall, or want a chimney inspection performed on your new home, a qualified and experienced chimney sweep from Dr. Flue is the right choice. When it comes to a chimney service, it pays to hire the right expert for the job.

Contact Doctor Flue
The CSIA-certified experts here at Doctor Flue offer chimney services and products in Michigan and Ohio and can inspect your chimney and help close it for the season. Contact us today! We'll get you set up right away, so you can have peace of mind.
Call Us: 1-800-438-3583
Email Us: office@drflue.com
Office Hours: Mon-Fri: 8am-4pm
Connect with Doctor Flue on Social Media