Considering a fireplace remodel? You may be wondering if it's worth the investment to update a fireplace at all. Of course it is! Find out the why and how of fireplace remodels as Doctor Flue shares wisdom from our 30 years on the job and some of our favorite fireplace facelift before and after shots!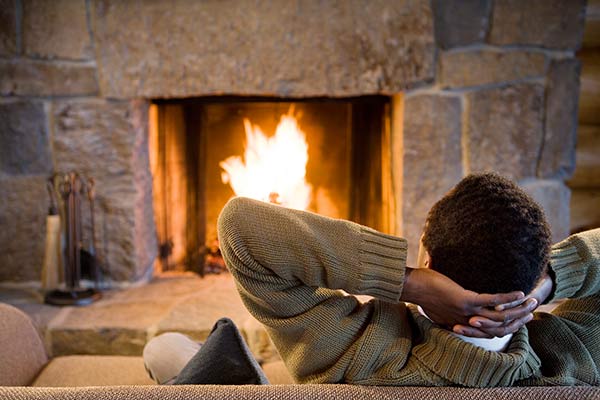 Fireplace Facelifts Means More Value for Your Home
Homeowners are constantly working towards improving the value of their home.  Not only do your weekend projects and major remodels make living there that much more enjoyable, when the time comes to sell, you'll hopefully be able to get more for the home than what you originally paid. But for all the popular home improvement projects, a fireplace remodel is often over-looked. But giving it a facelift is much easier than you may think!
Most modern homebuyers consider the fireplace a must-have. Whether you're looking for a traditional in-home fireplace, or love the newer trend of including outdoor fireplaces, you're not alone. In fact, a recent Angie's List survey of real estate agents and homebuyers indicated that over 60% of homebuyers would pay extra for a house with a fireplace. On top of that, it showed that fireplaces increased a home's value by $1,000 - $5,000 in 80% of the cases
That True Feeling of Home
It's not just about monetary value, either. Your fireplace is more than just another part of your house. It's a gathering place, a place where holiday memories are made, and a source of warmth in your home. From a romantic evening next to the glow of a fire, to enjoying family time while winter happens outside, the fireplace is the heart of your home.
Don't forget the practical purposes, either! If you live in an area with frequent power outages, you know how handy it is to have a fireplace during the winter.
This emotional connection is what changes a "house" to a "home," and can even help seal the deal when reselling. Realtors know that when shopping for a home, the buyer is always imagining themselves living in the homes they look at. What better way to picture yourself in your new home than lounging by a beautiful, cozy fireplace?
Know What It Takes to Update Your Fireplace
Now that you're excited to take on this great new project, it's important to start with the basics. What kind of facelift does your fireplace need?
#1. Cosmetic Overhaul
If your fireplace is in good condition and you're happy with the type of fireplace it is, maybe it just needs a new look. How you tackle a cosmetic update will be entirely dependent on the material used for your fireplace.
For example, a brick fireplace could be made to look brand new with nothing more than some brick paint and a weekend. If you're looking to make a bigger change, adding marble can offer a more traditional appeal, while using a contemporary tile might help make the fireplace more modern and eye-catching.
Looking for the quickest and easiest way to give your fireplace the look you've always wanted? Learn about our completely custom one-step Facelift renovation! These one-step facelifts use a magnetic mounting system to completely cover the face of your fireplace. They're a great option when you just need a change to the fireplace itself and not the hearth or mantel surrounding it. Not only will they improve the appearance of your fireplace, they eliminate drafts and reduce up to 90% of heat loss!
#2. Add or Update a Mantel
Does your fireplace have a mantel? If yes, take a good look at it and decide if it could use an update. If no, adding one could be the perfect home improvement project to take you fireplace to the next level! The most important part of a mantel is making sure it fits the space correctly. A mantel that is too big or too small can have a big impact on the overall look of your fireplace.
How you obtain your mantel is up to you. DIY lovers might want to consider building their own, which gives you the best opportunity to style a mantel that's right for the room. But if you need to purchase one, contact us and we can help.
#3. Convert to a Gas Fireplace
Converting your fireplace to gas is a great way to enjoy the benefits of a fire without the work of burning wood! The well-known wood-burning design is undeniably traditional, but many find modern gas fireplaces or gas inserts to better fit their home and their tastes.
A fireplace conversion isn't DIY territory, so make sure to consult a professional if you plan to take this route. If you decide to make the switch and live in the Michigan or Ohio areas, you can find out about our fireplace installation services.
Understand Your Project
No matter what you plan to do, make sure that you're well-educated on the subject and consult a professional when necessary. DIY is a great way to improve your home, improve your skills, and save some money, but fireplaces can be dangerous! Before you get started, you should schedule a CSIA certified inspection to ensure your fun weekend project doesn't turn into a disaster!
You May Also Enjoy...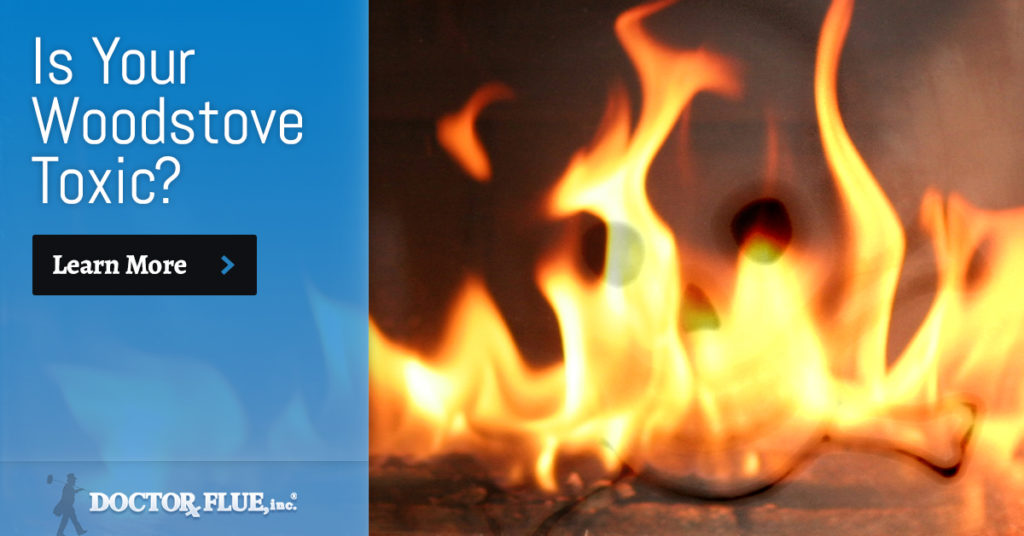 3 Beautiful Fireplace Remodels: Before and After Photos
If you need more inspiration, you can see many of our fireplace facelift before and after photos on our website. But here's a few of our favorites:
#1.  We updated this fireplace in Lambertville, Michigan by reducing the trim panel size and installing a new mantel. To give it a completely new look, we also installed a new stone veneer over the existing fireplace face – it makes quite a difference!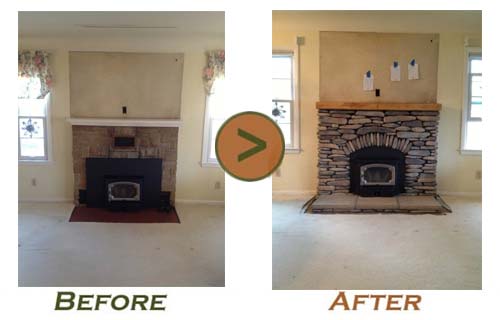 #2. This client in Ann Arbor, Michigan had an existing fireplace but wanted a better option for heating their home. We installed a new Linear Series L2 fireplace by Valor that provides a temperature control heat source with a contemporary look.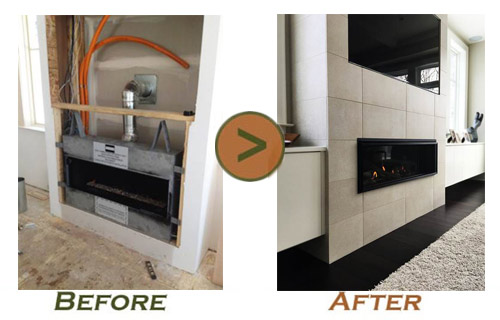 #3. The owner of this home in Ann Arbor, Michigan wanted to convert to a gas fireplace, but did not want to lose the arch on their brick opening. The compact Valor G3 gas insert fireplace was a perfect fit that not only looks amazing but provides powerful heat output as well.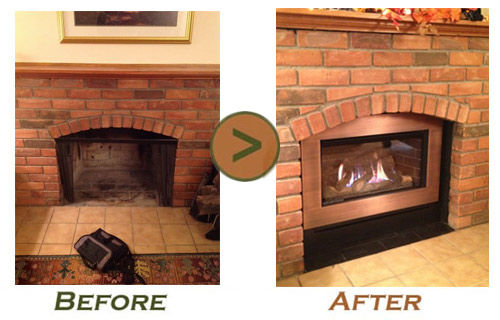 Let Us Help with Your Fireplace Remodel – Schedule an Appointment Today!
Doctor Flue can help you with your own fireplace facelift or installation! Request a quote or simply call and talk to our helpful staff. We look forward to working with you.
Call Us: 1-800-438-3583
Email Us: office@drflue.com
Office Hours: Mon-Fri: 8am-4pm
Connect with Doctor Flue on Social Media