Your chimney plays a vital role in the safe use of your fireplace or wood-burning stove. Many homeowners are surprised to hear that poorly-maintained flues and chimneys are actually one of the common causes for home fires. When it comes to your wood or gas-burning appliances, there are many parts that go into keeping your home safe, including the chimney liner.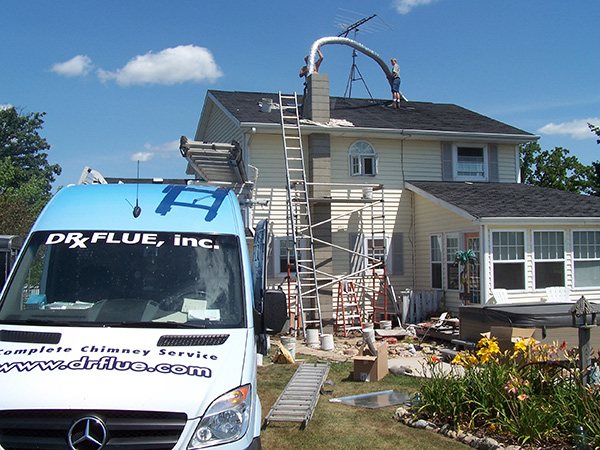 It's not uncommon for us to hear "What is a chimney liner?" Despite being a critical component to the safe operation of your fireplace, many homeowners aren't even aware of them. This is due in part to how long they can last – up to half a century, in some cases. If you haven't owned your home for too long, you likely haven't had to think about it. So, if you're wondering what chimney liners are and why they're so important, read on to learn more!
The Main Functions of a Chimney Liner
#1. Protects You from Accidental Fires
One of the most essential functions of a chimney liner is to prevent the risk of accidental fire. While chimneys are designed with material that won't catch on fire, they sit right against the rest of your home. Support structures or combustible framing near the chimney can ignite if the heat from the chimney transfers over to them. Chimney liners limit the heat transfer, which can prevent these fire hazards from existing.
It's possible for adjacent woodwork or other combustible material to catch fire in just a few hours when an active flame is sending heat through an unlined chimney. This is why it's critical to have annual chimney inspections, among the other risks from a deteriorating or damaged chimney.
#2. Preventing Damage to Your Masonry
While we tend to think of bricks as strong and solid, it's quite porous – especially when you factor in the mortar that keeps bricks together. When you have an active flame in your fireplace or stove, the combustion creates a variety of corrosive byproducts. Over time, this corrosion eats away at the mortar joints and allows for rapid heat transfer to nearby combustibles. If this happens, you will eventually experience dangerous problems, like carbon monoxide leaking into your living space.
Chimney liners protect your masonry by adding an additional layer of defense. Depending on the type of liner you use, they can be far more resilient to these corrosive substances than typical brick and mortar.
#3. Give Modern Appliances a Correctly-Sized Flue
Many modern fireplaces and stoves are designed with a specific flue size in mind. When replacing older fireplaces or installing new stoves into your home, chances are, your existing chimney or flue won't be exact. Not only does this impact the function of the appliance, but it could lead to the same dangerous risks as having no liner at all. When you upgrade, make sure you talk to a professional about installing a metal chimney liner to go with it.
Types of Chimney Liners
The three primary types of chimney liners used are clay tile, cast-in-place, and metal flue liners. Which one you choose largely depends on how old your home is and when you had the liner repaired or replaced last.
Clay Tile Liners
The most common type of chimney liners are clay tiles. They are an inexpensive option, and clay tiles perform very well with well-maintained open fireplaces. Clay tile chimney liners are often found in older homes; almost any home built in the last century will have clay tile liners if there is a chimney. That said, even with proper maintenance and chimney cleaning, clay tiles only last up to around 50 years.
Because the tiles are susceptible to cracking when rapidly exposed to uneven heating, they must be adequately maintained and inspected before use. Once the tile has cracked, it creates a vulnerability that could lead a house fire. Repairing clay tile liners or replacing them with new clay tile can be difficult, and many homeowners switch to a different liner when a repair is needed.
Cast-In-Place Liners
These chimney liners are installed exactly as their name suggests. Made with a concrete-like material, these liners are poured in and left to harden. Pouring the material in creates an excellent liner with no cracks or leaks. The solid lining offers insulation and even improves the structural integrity of your chimney!
In addition to creating a seamless and insulated chimney liner, they also can resist higher temperatures than other types of liners. Rated to withstand heat up to 2100 degrees, cast-in-place liners are a great option for protecting against the dangers of a chimney fire. Between the insulation and support for higher temperatures, it can help make sure combustive gasses and creosote are consumed more fully during use.
It's important to keep in mind that a cast-in-place liner is a permanent liner. If some damage happens to the liner, it can be necessary to replace the entire liner. While this circumstance is unlikely due to the integrity of the material, it's worth discussing the pros and cons with a professional when deciding on which liner to choose.
Metal Flue Liner
Today, metal flue liners are the most popular option for adding or replacing a chimney liner to your home, bringing with them a host of benefits to you and your home. Primarily made of stainless-steel, metal chimney liners for certain types of gas stoves are sometimes made of aluminum. For either material, metal offers high resistance to corrosion from the byproducts of combustion, protecting your home and reducing the risk of damage and likelihood of needing your chimney repaired.
One of the biggest benefits of metal flue liners is that they can be made for essentially any chimney. While cast-in-place liners, for example, can't be poured in certain chimney designs, metal flue liners can be rigid or flexible, allowing them to be installed in essentially any modern home. The installation process itself is also easier and less costly.
If you choose to go with a cast-in-place liner, you may have the option of combining it with a stainless-steel liner, bringing additional insulation and protection to your home. You can never be too careful when it comes to protecting your home – and these liners all work towards improving the efficiency and function of your fireplace or stove.

Schedule an Inspection of your Chimney Liner Today!
Our CSIA Certified Chimney Sweeps will inspect your fireplace and chimney to make sure your chimney liner is in excellent condition, or to schedule an appointment to install a new liner if necessary! Contact us today! We'll get you set up right away so you can have peace of mind.
Call Us: 1-800-438-3583
Email Us: office@drflue.com
Office Hours: Mon-Fri: 8am-4pm
Connect with Doctor Flue on Social Media