If Doctor Flue has recently serviced your chimney or fireplace, you may have noticed our technicians using a tablet during their visit to document their work and maybe even get your signature. That helpful device contains the software we affectionately call FluePad. This software, developed in-house, helps us improve every experience you have with Doctor Flue. FluePad connects with FlueBase, our database that makes sure you receive top-quality service every time you call.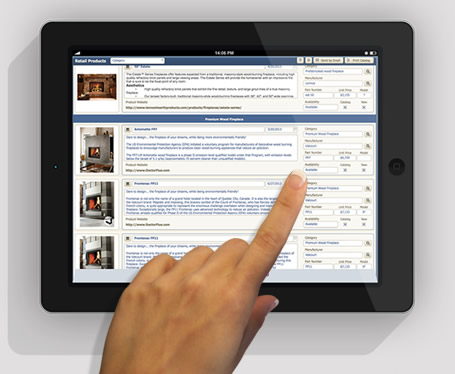 Kevon R. Binder: Son of Doc, Father of FlueBase
To stay ahead in the industry, and on the cutting-edge of technology, the FluePad system was developed by Kevon R. Binder, son of Kevon H. "Doc" Binder, the founder of Doctor Flue.  Kevon R. was the youngest CSIA certified chimney sweep in the country at age 15, and has been serving southwest Michigan and northwest Ohio for the past 17 years.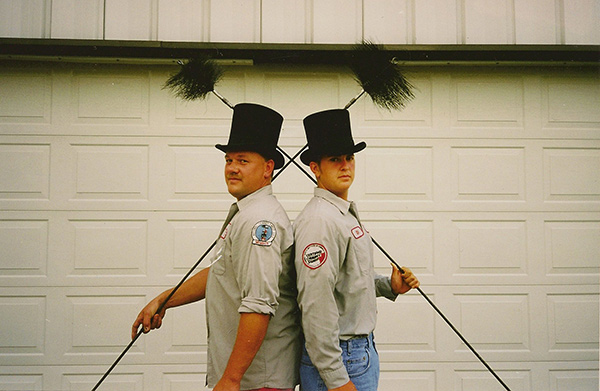 "I get to work closely with two of my passions: technology and fire," says Kevon. As the Field Operations Manager for Doctor Flue, Kevon's focus on efficiency and service have gone a long way towards improving the customer experience and making sure our services are always comfortably affordable.
Finding innovative ways to improve our service is paramount to Doctor Flue, and the FlueBase system has gone a long way to helping us on that path.
Origin of FlueBase and the FluePad
Over our decades of business, we've relied on customer feedback to continually improve our services. In our effort to stay on the cutting edge of technology, Kevon began his project of creating FluePad and FlueBase to help both our staff and our clients.
FlueBase is an advanced software system that gives Doctor Flue's chimney sweeps immediate access to everything they need to keep track of service requests and information, such as:
Proposals
Invoices
Contracts
Schedules
Service History/Photography
Customer Communication
This robust and secure system is accessible at our office and on each portable tablet carried by our technicians. Whenever we're inspecting your chimney or fireplace, or completing a repair, we take several photographs and notes that help us document as much information as possible. These records are saved in the FluePad software, and eventually transferred to FlueBase, where it can be referenced whenever it's needed.
How FluePad & FlueBase Improve Our Service
Faster Service & Appointments
One of the biggest benefits of the FlueBase system is allowing us to help you sooner. After we inspect your chimney or fireplace, you receive a same-day proposal, allowing you to see exactly what service or products we recommend. This also means we're able to respond to service requests more quickly, so when you're ready for your annual chimney inspection, we'll be ready too!
Keeping You Well-Informed
Whether it's your car or your chimney, you want to know the details behind any recommendation made to you by a professional. With FlueBase, when our CSIA certified technicians identify a necessary repair, they'll be able to provide you with photographs, diagrams and information that help you understand the importance of any service we recommend. The system includes everything from our full line of fireplace products to fireplace codebook references that help our technicians better explain concerns and the best options to handle them.
High Quality Follow-Up Service
All of the information recorded from our service visits is stored and easily accessible by our technicians on future appointments. When you have a new fireplace installation, or a major repair, our team will have all the tools they need to follow-up and make sure you're completely satisfied with our service, as well as checking in to make sure the problems you were experiencing were fully resolved.
For instance, if a particular model of fireplace has a recall, we can check all of our customers to see who may have that particular model. If we ever serviced or installed one of these models, we can contact you and let you know!
The Future of FluePad/Base System
Kevon's vision for the future of our unique system is everchanging. As the needs of our customers change, Kevon intends to continue improving the tools we use to offer the most thorough, high-quality service available. With new features and updates based on feedback from you, you can expect on-going technology improvements and continued outstanding customer service any time you need to contact Doctor Flue.
One project we're working on is the ability for you to choose a fireplace from our system with the features you want, then instantly generate a proposal! Shopping for your new fireplace will be a cinch – choosing from options and models that fit your budget. All done from the comfort of your home, on your own time!

Schedule Your Chimney Inspection Today!
Ready to schedule your annual cleaning and inspection? Don't hesitate, contact us today! We'll get you set up right away so that you can enjoy the benefits of your fireplace with peace of mind. Contact us online or give us a call at (800) 438-3583 to get started!
Connect with Doctor Flue on Social Media!