According to the Chimney Safety Institute of America, there are more than 25,000 chimney fires each year. This is an alarming statistic! There are several factors that contribute to these fires including faulty chimney liners, structural issues, and creosote build-up.  Almost all of these chimney fires can be prevented with an annual chimney inspection using a video scan. Here at Dr. Flue we pride ourselves on using the latest in video scan technology. The Chim-Scan gives our technicians the ability to see every inch of the inside of your chimney saving you and your family from potential danger.
What exactly is a Chim-Scan?
The Chim-Scan is a remote imaging inspection camera designed to be raised or lowered inside the chimney. This gives the chimney inspector and the homeowner the ability to see every inch of the interior of a chimney. It also reveals areas inside the chimney that are hard to spot with the naked eye.
What do you look for?
When running a chimney video scan, we check for damage on the inside of your chimney that would've been missed without this tool. Heat cracks in the chimney act like a door, opening and closing, allowing creosote to form between the tile and the inner chimney wall. If you continue to burn fires with a cracked flue, you run the risk of further damage. Cracks in any part of your flue allow combustion toxins to easily leak out into your home.
How do I know if there's been a chimney fire?
Since chimney fire damage can endanger the home and its occupants, it's important to have your chimney regularly inspected. Our CSIA-certified chimney professionals will look for the following signs:
Warped metal of the damper or chamber connector pipe
Cracked or collapsed flue tiles
Roofing materials damaged by hot creosote
Cracks in exterior masonry
Evidence of smoke escaping through mortar joints of chimney liners
The Chim-Scan is also essential after a chimney fire. It can help with determining the cause of the fire and the extent of the damage.
What should I expect after the scan?
After conducting the scan, you'll receive a written report documenting our findings along with images that you can provide to your insurance company for claims purposes.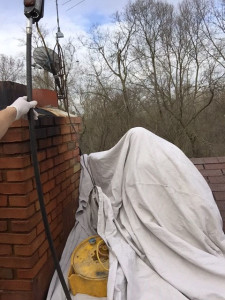 Call Doctor Flue today!
How can you prevent a chimney fire? Get an annual chimney inspection from one of our CSIA-certified technicians, where you'll receive a full system evaluation at no additional charge.  Doctor Flue uses video scans in all levels of inspection for a thorough examination, giving you and your family peace of mind.
Give us a call at 800-438-3583 or send us an email at office@drflue.com to request an appointment.
Connect with Doctor Flue on Social Media