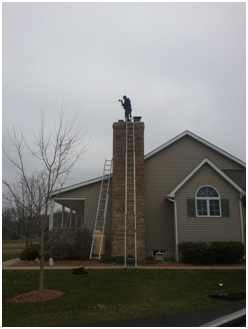 If you're a homeowner, it's imperative that your chimney is inspected annually.  Think you can do it yourself?  You may want to reconsider. It's not as easy as you may think.  The truth is that responsible homeownership means hiring a certified chimney sweep to inspect your chimney once a year.
Dr. Flue is a leader in Ohio and Michigan chimney inspections, and for good reason.  They are professional, and use advanced technology, including video inspection, to check the condition of a chimney.  The chimney sweeps at Dr. Flue are fully certified by the Chimney Safety Institute of America and have the experience necessary to catch any potential problems before they become costly or dangerous.
Schedule an Annual Professional Chimney Inspection
Hiring a chimney sweep in Ann Arbor, MI on a yearly basis means that an individual will be able to catch potential chimney hazards, such as smelly and flammable creosote deposits.  Using the latest technology, they thoroughly inspect both the inside and outside of the chimney.  This allows Dr. Flue to discover things like creosote deposits, and water damage before it ends up costing a homeowner a substantial sum of money.  It is easy to understand why experts recommend a yearly inspection once a homeowner understands just how much money he or she could save simply by having a chimney service inspect their chimney.
Although the chimney cleaning cost may seem like an unnecessary expense, it is very small compared to the money you may save by preventing water damage or a potential fire.  In fact, many insurance companies insist that policyholders hire a qualified service like Dr. Flue to ensure that a chimney is properly maintained.
An individual who is concerned about the safety of her chimney should consider having a chimney cleaning service inspect and thoroughly clean the chimney before winter.  It is a good idea to make sure that everything is in tip top condition before the weather gets cold.
Individuals throughout Michigan and Ohio have come to rely on the staff at Dr. Flue to provide them with the service they need at a reasonable price.  When it comes to keeping a chimney properly maintained, there is no substitute for a professional chimney sweep.

Ensure your chimney is ready for the cold winter months by contacting a chimney sweep for a thorough inspection today.  Call Dr. Flue at 1-800-GET-FLUE (1-800-438-3583) or send us a message online.