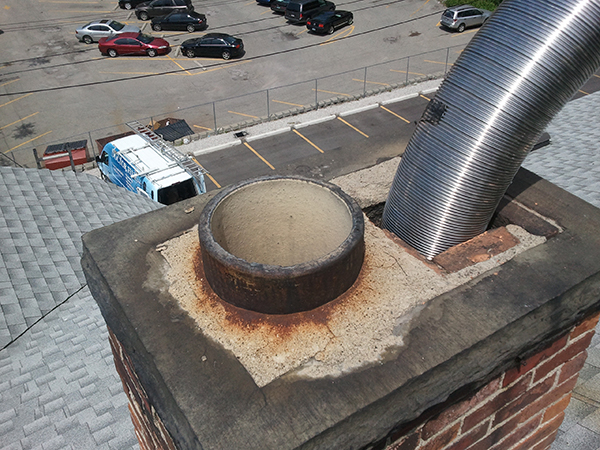 Many homes, especially older homes, have fireplaces. They add an element of ambiance as well as provide heat. However, some of the chimneys of yesteryear were built without chimney liners which may be putting residents in danger of chimney fires.
Additionally, with the increase in DIY projects, as well as budget businesses, some homes have had aluminum flue liners installed in the interest of cost savings. Yet, aluminum flue liners are only rated for use with gas appliances. If you have an unlined or improperly lined chimney, you'll appreciate this look at the reasons why you should replace your aluminum flue liner with stainless steel.
What Is a Chimney Flue Liner?
The flue liner in your chimney runs up through the inside of the chimney, protecting the surrounding brickwork. The chimney flue liner also protects nearby woodwork in the home from heat. The liner is an important part of any chimney, keeping your home and the people in it safe.
People tend to think of bricks as indestructible. However, the masonry and brickwork of a fireplace is at risk from corrosive byproducts of combustion such as creosote from burning wood. Additionally, acidic gasses rise through the flue and can cause destruction to the masonry, particularly at the mortar joints.
Heat can find new cracks to travel out of if the mortar joints fail instead of rising to the top. When these cracks develop the chance of chimney fires increase. Carbon monoxide poisoning risks also increase.
Flue liners are designed to reduce the risk of chimney fires when wood or other easily-combustible parts of the home are exposed to more direct heat.
What's Wrong with Aluminum Flue Liners?
Since the early 1900s, clay tile flue liners were the most common method of lining chimneys. The lifespan of clay liners is about 50 years, and many poorly-maintained chimneys may still have the original liner.
One disadvantage to clay liners is that rapidly rising temperatures can lead to cracks. If your flue liner is cracked, it puts your home at risk. There are newer metal liners such as aluminum and stainless steel that are all one piece and can be installed inside existing clay tile flue liners. Because of their seamless construction, they completely cover and eliminate any existing cracks in the clay, brick or masonry flues. While aluminum is the less expensive of the metal options, you get what you pay for, and with cost savings can come some issues.
Aluminum flue liners aren't rated for the heat generated by most appliances. So if you have wood stoves or fireplaces, aluminum is not the best choice. Aluminum flue liners may save you money in the short term, but the fact that their lifespan is much shorter, and they are not designed to handle the byproducts of burning solid materials, means that aluminum may not be the best long-term choice.
The shorter lifespan of aluminum flue liners is due to the fact that aluminum isn't corrosion resistant. Byproducts such as creosote - the same corrosive material that corrodes masonry - can eventually corrode aluminum flue liners.
This corrosion can cause pinhole cracks to can form. These pinhole cracks are inclined to form throughout the flue liner and are enough of a breach of your liner to lead to a chimney fire even though they are so small that it can be nearly impossible to notice them until it's too late.
Benefits of a Stainless Steel Flue Liner
If you have a gas fireplace with a flue liner that needs replacement or you want to switch flue liners, rest assured that replacing your existing flue liner with a stainless steel flue liner is relatively easy. Clay liners that have developed cracks near the top can be removed and replaced, but the further down the cracks are, the more difficult replacement becomes. An aluminum flue liner is more fragile than stainless steel. It can bend or crumple during installation which compromises the integrity of your chimney flue liner. With stainless steel, you have a lower risk of damage when installed as it can support a great deal of weight. Additionally, cleaning aluminum flue liners can be more difficult due to their fragility.
Because stainless steel liners are resistant to corrosion, the main issue of long-term flue damage is eliminated – making them a great choice for your chimney flue liner. They also have a much longer lifespan than aluminum flue liners which may need to be replaced in just a few years. The 20-year lifespan of stainless steel flue liners makes them a better investment for your home.
Additionally, insulation is installed with stainless steel flue liners which helps regulate the temperature in your home more effectively and prevents heat transfer from the flue to the structure of your home. These two factors help increase safety when you are using your fireplace, and efficiency when your fireplace isn't in use during the coldest months of the year.

Schedule an Inspection of your Chimney Liner Today!
Our CSIA Certified Chimney Sweeps will inspect your fireplace and chimney to make sure your chimney liner is in excellent condition, or to schedule an appointment to install a new liner if necessary! Contact us today! We'll get you set up right away so you can have peace of mind.
Call Us: 1-800-438-3583
Email Us: office@drflue.com
Office Hours: Mon-Fri: 8am-4pm
Connect with Doctor Flue on Social Media