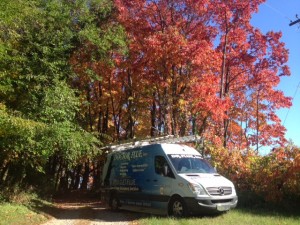 It's that time again: time to get your chimney inspected! An annual chimney inspection helps to reduce the chance of a chimney fire, by reducing the amount of creosote in your flue.
According to the U.S. Fire Administration, "Heating fires account for 36% of residential home fires in rural areas every year. Often these fires are due to creosote buildup in chimneys and stovepipes. All home heating systems require regular maintenance to function safely and efficiently."
Keep Your Chimney Safe and Clean
Have your chimney or wood stove inspected and cleaned annually by a certified chimney specialist
Clear the area around the chimney of debris, decorations, and flammable materials
Leave the doors open to ensure the fire receives enough air to certify complete combustion
Close glass doors when the fire is out to contain the smoke
Install stovepipe thermometers to help monitor flue temperatures
Keep air inlets on wood stoves open, and never restrict air supply to fireplace
Use fire-resistant materials on the walls around wood stoves
Inspection Process
Doctor Flue, Inc.® makes it a top priority to clean, inspect, and keep you informed about your chimney. Every detail matters when it comes to your safety. A chimney inspection consists of photos of the chimney's exterior and a video inspection of your chimney's lining and interior.
Innovative video equipment is used to view the interior of your chimney and you're welcome to watch the footage in the comfort of your own home, so you can actually see the issues inside your chimney. "Get your chimney checked because it's where you live," as Doc likes to say.
Chimney Inspection Offers:
Inspections for New Home Purchases
New Appliance Installations
Insurance Inspections
Water Damage Evaluation and Repairs
Masonry Repairs
CSIA Certified Chimney Sweep inspections result in:
Catch Potential Fire Hazards
Remove Flammable Creosote Deposits
Eliminate Smelly Creosote
Prevent Any Serious Future Water Damage
Contact Doctor Flue
Has it been over a year since your fireplace has been inspected?  If so, you're due for a checkup!  Remember, "Clean flues don't burn," Doc says.  If your chimney hasn't been inspected for creosote buildup, structural problems, or damage, now is the time.
Contact Doctor Flue if you are in the southeast Michigan or northwest Ohio areas!
Phone: 1-800-438-3583
Website:  www.DoctorFlue.com
Email: office@drflue.com
Facebook: https://www.facebook.com/DrFlue