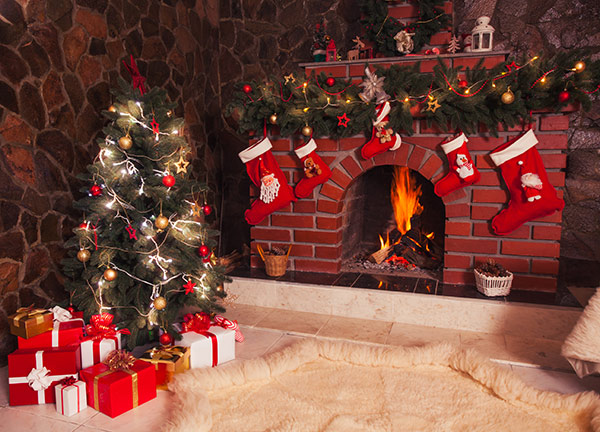 It's hard to separate the fireplace from the holidays. After all, it's where you hang your stockings and it's also Santa's preferred means of entry. When you're trying to think of a unique present for your family or friends, there are plenty of amazing fireplace gift ideas that will brighten their home and their holidays.
Checking off every name from your shopping list isn't easy. See our top fireplace gift ideas below to help you pick something special for the season.
Doctor Flue's Favorite Fireplace Gift Ideas
Quality Wood Rack
It's important to use properly seasoned wood when burning logs in a fireplace. The only way to obtain wood that's been dried long enough to burn efficiently is by storing it in a wood rack. While many homeowners have indoor racks to hold small amounts of logs, a proper outdoor rack is necessary to season the wood first.
There is an enormous variety of outdoor racks available. Ranging from small to incredibly large, there's a rack that's perfect to fit a stack of wood for any home. Styles also differ from simple to ornate to fit in along the side of the house or shed where it can be setup.
Likewise, if your friends or family simply stack their firewood on the hearth while they use the fire, an indoor wood rack would be a great gift. Just like outdoor firewood racks, you can find something in any size and style. Don't underestimate the aesthetics offered by a quality wood rack to a hearth. In addition to being functional, they can often improve the overall look and feel of a home's fireplace.
Fireplace Facelift
Over time, the look of a home goes through many changes. Whether it's from renovations or style updates, everything from wall color to decorations can update. Your fireplace, on the other hand, tends to stay the same.
Fortunately, it doesn't take a complete renovation to update the look and feel of a fireplace. Doctor Flue's fireplace facelifts change the appearance of your fireplace in one simple step. They're designed uniquely for your fireplace, including a custom fit with a variety of styles, colors and finishes.
If you know someone who's fireplace is looking a bit outdated, learn more about Doctor Flue's fireplace facelifts for a unique gift idea.
Fireplace Tool Set & Accessories
No hearth or fireplace is complete without a set of accessories and tools. They complete the look of your fireplace and are necessary to safely operate it.
Over time, especially with heavy use, these accessories can become worn and degraded. Pokers become stained with scorch marks and shovels scraped bare. A brand-new set of tools revitalizes the appearance of the hearth and area surrounding the fireplace instantly.
But the tools aren't the only piece that accents a fireplace. You can consider all sorts of additional accessories, some can even be custom-made to make them more personal:
Fireplace mantels
Bellows
Fireplace Screens
Fireplace Doors
Andirons
Fireplace Grates
Every new piece adds more to the fireplace, which creates a warmer and more inviting atmosphere in the room that houses it.
Cast Iron Fireback
Unique gifts are hard to come by. A fireplace fireback can be both functional and aesthetically pleasing – making it a perfect gift for any home with a fireplace.
These large, metal plates rest in the back of a firebox and often display an intricate design. In addition to their looks, the fireback protects the interior masonry by absorbing much of the direct heat from an active fire. The heat then radiates out from the fireback, which generates a lingering warmth even as your fire dwindles.
The thickness and type of metal of a fireback determines how much heat it will radiate. Thick firebacks will release heat slowly, over a long period of time. Heating your home with a fireplace is easier with one, as more of the heat stays inside.
If you need a very special fireplace gift idea, some sources for firebacks will customize the design. Well-crafted ones won't come cheap –but they can last for a lifetime, making them a superb gift for close friends and family.
Protective Fireplace Gate
New parents have a lot on their mind – including childproofing their home. With cabinets, drawers and outlets to guard, it's easy to forget about the fireplace and hearth. But with the hard masonry and remnants of past fires, it's no place for a baby or toddler to explore on their own.
Fireplace gates are designed to block off area surrounding the fireplace. Styles vary so that every fireplace design can have a gate that matches.
Gift a Chimney Cleaning!
Not everyone appreciates the importance of a chimney cleaning. Beyond keeping your chimney clean, they benefit the home in a variety of ways:
Chimney Cleanings Improve Safety – A soot-filled chimney is a major risk. Issues with the airflow can cause carbon monoxide poisoning.  Creosote buildup can instigate a deadly chimney fire. Clean chimneys are safe chimneys.
A Clean Chimney Operators More Efficiently – Creosote deposits reduce airflow and allow more circulation of cooler air. You'll need to burn more wood to keep warm without regular chimney cleanings.
Identify Problems Before They Become Disasters - The heat from burning combustibles doesn't come without a cost. Masonry and liners aren't impervious to wear from chemicals and hot temperatures. Spotting issues like cracks in your masonry now can mean easy repairs versus waiting until a chimney collapse or fire happens.
If you know someone that hasn't had their chimney cleaned for years, now is a great time to get one for them. With the frigid weather still ahead here in southeast Michigan, their fireplace will see some heavy use!

Need Fireplace Gift Ideas? Ask Doctor Flue!
The CSIA-certified experts at Doctor Flue can help you decide on the best products and accessories when it comes to fireplaces. Contact us today! We offer chimney services and products in Michigan and Ohio and can inspect your chimney and identify any potential risks. We'll get you set up right away so you can have peace of mind.
Call Us: 1-800-438-3583
Email Us: office@drflue.com
Office Hours: Mon-Fri: 8am-4pm
Connect with Doctor Flue on Social Media