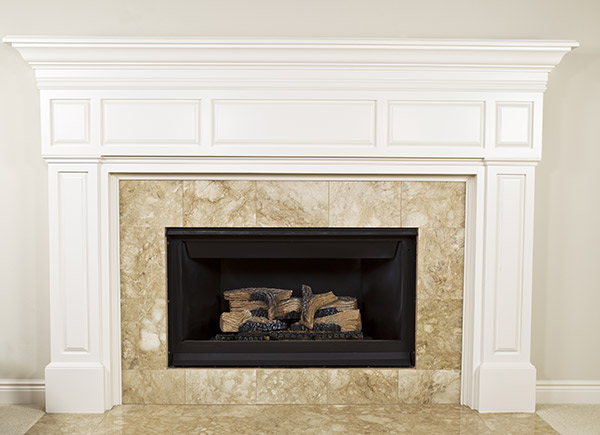 When the sun is out and your AC is running for weeks on end, your fireplace may be the last thing on your mind. But summer fireplace maintenance is a great way to keep your house safe, cut down on some potential costs, and make sure you're ready for a cozy fire when fall and winter inevitably bring cold weather back our way in southeastern Michigan! 
Schedule Your Annual Fireplace Inspection
You may think of a fireplace as another appliance in your home that only needs maintenance when it's damaged. However, the dangers of a poorly maintained fireplace are severe. From housefires to carbon monoxide poisoning, it's critical that you take fireplace safety seriously! 
The summer is a great time to schedule a fireplace inspection. CSIA-certified inspections for your fireplace and chimney will look top-to-bottom for potential risks. This could include anything from signs of a previous chimney fire that may have gone unnoticed, creosote buildup, damaged masonry and more. 
During the warmer months of the year, it's a lot easier to schedule your inspection. When cold weather finally arrives, most chimney sweeps are swamped with requests for inspections, cleanings and repairs. Beating the rush means taking advantage of this quieter season to get your fireplace in peak condition! 
Summer Is Great Time for Repairs & Replacements
Most inspections or cleanings end up finding no problems and leaving you with a fireplace ready to go when it's needed. But sometimes, inspections can uncover problems that would make using your fireplace unsafe. In these cases, repairs will be necessary – and that could include replacement parts. 
Depending on your type of fireplace, the problem it's having, and the type of repair needed, your fireplace could be out of commission for a few days. During the summer, that's no problem at all. But if that happened during the winter, it might be a chilly few days while you wait for the necessary parts or repairs. 
It's often easier to work on fireplaces during the summer, between the heavy rains of spring or fall and the ice or snow of winter. This can cut make it safer for our team and easier for you to get your fireplace back in operation as soon as possible! 
Use the Chance to 
Deep Clean Your Firebox
When your fireplace isn't being used for a few months, it's a great opportunity to give it the thorough cleaning it needs. Ash, creosote and other byproducts of combustion aren't just unsightly, they're bad for masonry and the air quality of your home. 
While you should leave some ashes in your fireplace between uses, it's okay to fully clean it when it won't be used for a while. You can use a basic shovel and bucket but should never use a vacuum to clean your firebox unless it's specially designed for fireplace cleaning. 
Once it's empty, you can use basic home cleaning tools and solutions to give the firebox a good scrub. Just make sure the cleaner you use is safe for masonry and metal – you don't want to tarnish the appearance of your fireplace accessories of firebox accidentally! 
If you have a gas fireplace, you can use this time to clean the glass and any visible parts around the fireplace exterior. Unless you're familiar with the working parts of a gas fireplace, it's best to leave the major summer fireplace maintenance and cleaning to the professionals! 
Close the Damper
This summer has been particularly hot, so many homeowners are pushing their AC to the limits to keep their houses comfortable. The last thing you want is to make your air conditioner work harder by trying to heat the whole neighborhood. 
Your chimney should have a damper that you can close, and this should be part of "closing up" your fireplace for the spring and summer. If you haven't taken the time to do it yet, make sure to check if your damper is open. If it is, close it! This helps keep cooler air in your house. As an added bonus, it may also help with issues of outside smells making their way into your home! 
What Should You Do With Your Pilot Light?
Gas fireplaces are increasingly popular, which means a lot more homeowners are left wondering what to do with their gas fireplace over summer. Depending on who you ask, the choice of leaving the pilot on or turning it off is an easy one – but you may get wildly different answers. 
In reality, there are benefits and potential drawbacks to both. If you leave the pilot light on, you will technically be generating a bit of heat in your home during the months where all you want to do is escape the heat. Additionally, the pilot light will use a bit of fuel, costing you potentially a few dollars each month to keep it running. 
On the bright side, an activated pilot light keeps insects away from your burner tubes. In some cases, spider webs in your gas fireplace can prevent it from starting up until it's serviced, requiring you to have a professional come out get it back in order. Likewise, letting the pilot light run will reduce moisture buildup inside, which can prolong the life of your fireplace. 
Ultimately, the decision is up to you! Look for recommendations from the manufacturer or ask one of our CSIA-certified chimney sweeps when we come to inspect and clean your chimney! 

Schedule an Inspection of Your Chimney Today!  
Our CSIA Certified Chimney Sweeps will inspect your fireplace and chimney to make sure your chimney liner is in excellent condition, or to schedule an appointment to install a new liner if necessary! Contact us today! We'll get you set up right away so you can have peace of mind.   
Call Us: 1-800-438-3583   
Email Us: office@drflue.com   
Office Hours: Mon-Fri: 8am-4pm   
Connect with Doctor Flue on Social Media