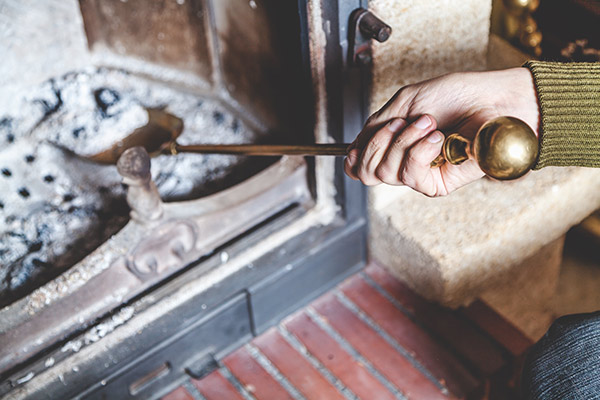 Spring means spring cleaning. And while you may be running around the house tidying up or emptying out deep closets, there's another important part of your house to clean: the fireplace! Many homeowners don't know how to clean a fireplace or don't realize how important it is to keep their homes safe. Read on to learn tips to clean your fireplace and get it looking brand new!
Why Do I Need to Clean My Fireplace?
Homeowners sometimes see their fireplace as an area that's meant to be dirty. After all, ashes and fire are going to cause a mess, and it's all hidden behind a fireplace glass door so what's the harm? Unfortunately, there's a lot of risk involved with leaving your fireplace dirty – whether you use it frequently or not!
The most severe risk of a dirty fireplace is a chimney fire. While your fireplace is generally a safe location for controlled fires, the heat is supposed to stay in the firebox at the base. But creosote buildups high in the chimney can ignite from heat below, leading to fires that originate in the flue where the direct heat may cause problems. This heat can damage bricks and allow fire to spread to nearby woodwork, leading to a whole home fire!
The more frequently you have creosote burns in your chimney, the higher your risk of a fire that spreads out of the flue. Every time it happens, your chimney will be damaged, until it can't contain the extreme heat and causes a life-threatening fire.
Secondly, fireplaces can be a source of health issues. This is especially true for poorly cleaned wood-burning fireplaces. Some of the most common health issues are respiratory. If you haven't cleaned your fireplace recently, you may be breathing a lot of particulate matter left over from your fireplace. The soot, ash and gaseous byproducts of combustion are all irritants for your lungs and throat!
How to Clean a Fireplace Thoroughly
Remove the Ash from Your Fireplace
The first thing to note when cleaning ash from your fireplace is that you don't need to completely clear your fireplace. If you still intend to use it in the near future, leave a layer of ash in the base of the firebox to help keep your fires going. A bed of ash lets wood rest on top, but provides some space underneath for air to flow which helps keep a fire going!
That said, if you're wrapping up your fireplace for the season, you'll want to remove all the ash to help keep your home clean. The easiest way to do it is with a shovel and a non-combustible container like a metal trash can. Remember to always wait until the ash has completely burned out – sometimes it's safest to wait around 48 hours after the last fire before fully cleaning the ash out.
Use your shovel and deposit all the ash into the metal container. Some fireplaces have ash dump doors. If your fireplace does, use the dump door, keeping in mind that you still need to wait until the ashes are safely cooled off!
You may find tips online that say you can vacuum ash out of your fireplace. This is true, but there is a major caveat: you must use a specialized ash vacuum! The risks of using a regular vacuum include ashes igniting in the vacuum or damage to your vacuum due to components being heated from inside. It's a quick way to destroy your vacuum and put your home at risk.
Cleaning Fireplace Soot
There are a lot of chemical solutions and other options recommended for cleaning soot and creosote away from your fireplace. In reality, the only CSIA-recommended way to truly clean your fireplace is through mechanical brushing. Chemicals may help clean away some deposits, but aren't reliable enough to work as a substitute for a professional cleaning.
However, you can take some steps to make your fireplace generally cleaner while you wait for a professional cleaning appointment. You can remove grates or andirons and take them outside to clean with an old cloth and a wire brush. Avoid using water on metal, as it can accelerate corrosion and isn't necessary. If your andirons are extremely dirty, you can use brass polish for brass andirons, or vegetable oil and steel wool to attempt to polish them!
Be careful when cleaning soot from your fireplace. Professionals that know how to clean a fireplace protect themselves from breathing in soot, due to the risks of respiratory irritation. If you don't have the proper protective equipment, you'll want to just clean accessories that are removable from the firebox and leave the rest to a professional!
How to Clean Fireplace Glass
Gas fireplaces and some wood fireplaces use glass doors in front both to keep the fireplace safer. Over time, even with gas fireplaces, glass on your fireplace will get dirty. For wood fireplaces, soot and ash stains are common, whereas gas fireplaces tend to build-up a glossy or cloudy appearance on the fireplace glass.
The easiest way to clean fireplace glass is to remove it from the fireplace and take it outside. This helps reduce the possibility of spreading ash or soot on your carpet around the fireplace.
Try to avoid using cleaners that include ammonia, which is common with window cleaners. Instead, look for specialized gas appliance cleaners or make your own mixture with a vinegar cleaning solution. Regularly cleaning your fireplace glass will keep it clear and improve the overall look of your fireplace.
Avoid Damaging Your Brick Fireplace
Like glass, ammonia can be harsh on bricks, especially older bricks that may already be worn down and fragile. A common household item you can use to clean bricks gently ish dishwashing detergent. It's effective for cleaning bricks, and is gentle enough for even aging brickwork.
All you need is a small solution of dishwashing detergent and water to spray on the bricks and brush clean with a scrub brush. For most fireplaces, especially those that are regularly cleaned, this will be more than enough to clean visible soot and ash from visible areas in the home.
For the Rest: Call a Pro!
Everything from the hard-to-reach spots in your firebox to the top of the chimney are best handled by a professional, CSIA-certified chimney sweep. Not only are these areas challenging to clean, they can be dangerous! Additionally, like cleaning glass or brick, it's important to use the right tools to make sure the cleaning doesn't lead to long-term damage.
Professional chimney sweeps also perform critical inspections when they're working on your flue. They can identify past damage, like signs of a chimney fire, or catch problems early, before they cause significant damage!

Schedule an Inspection of Your Chimney Today!
Our CSIA Certified Chimney Sweeps will inspect your fireplace and chimney to make sure your chimney liner is in excellent condition, or to schedule an appointment to install a new liner if necessary! Contact us today! We'll get you set up right away so you can have peace of mind.
Call Us: 1-800-438-3583
Email Us: office@drflue.com
Office Hours: Mon-Fri: 8am-4pm
Connect with Doctor Flue on Social Media