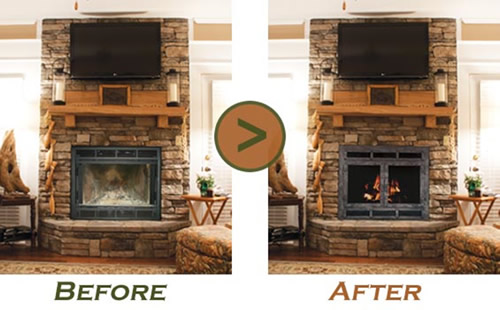 Is your fireplace looking a bit outdated or have you remodeled recently and now want to change the look of your fireplace? Tired of having a fireplace that looks exactly like the fireplace everyone else you know has? Whatever your reason for wanting a fireplace update, Doctor Flue is ready to help with a customized Fireplace Facelift!
What is a Fireplace Facelift?
Our Fireplace Facelift is a quick an easy renovation of the look of your fireplace that we can complete in one simple step. Each of our Fireplace Facelifts is designed specifically for our individual customers, which means your Facelift will be completely unique to YOUR fireplace!
You have the power to design your very own Fireplace Facelift from our wide selection of styles, colors, finishes, and other options. This means your Facelift will be uniquely designed to perfectly match the décor of your home alone!
How does Doctor Flue Create a Facelift?
Our specialized Fireplace Facelifts are completed in one easy step. The simplicity stems from the unique magnetic mounting system, which allows our frames to completely cover the entirety of your fireplace face. Doctor Flue can easily measure and install your new Fireplace Facelift quickly and efficiently.
Why Choose Doctor Flue's Fireplace Facelift?
Our Facelifts are so quick and easy to install that you'll have a beautiful new fireplace design in no time. Our Facelifts also come in a variety of styles to choose from, giving you the options you need to create just the look you want. Doctor Flue's Fireplace Facelift will also help you save money! Our Fireplace Facelift doors eliminate drafts, which reduces up to 90% of heating loss!
Design Ideas
Doctor Flue offers a wide variety of Fireplace Facelift design options, including 12 louver designs, 25 unique finishes, and unlimited custom combinations. Looking for design ides? Visit our design idea page. Ready to order? Request a quote for your Fireplace Facelift today!
Contact Doctor Flue
Call Doctor Flue at 1-800-438-3583 to learn more about our custom Fireplace Facelifts, or to schedule a professional chimney inspection (you may also schedule an appointment online). Our chimney inspection includes photos of the exterior and a video inspection of the lining and interior. Doctor Flue services Michigan and Ohio.
Connect with Doctor Flue
Website:www.DoctorFlue.com
Email:office@drflue.com