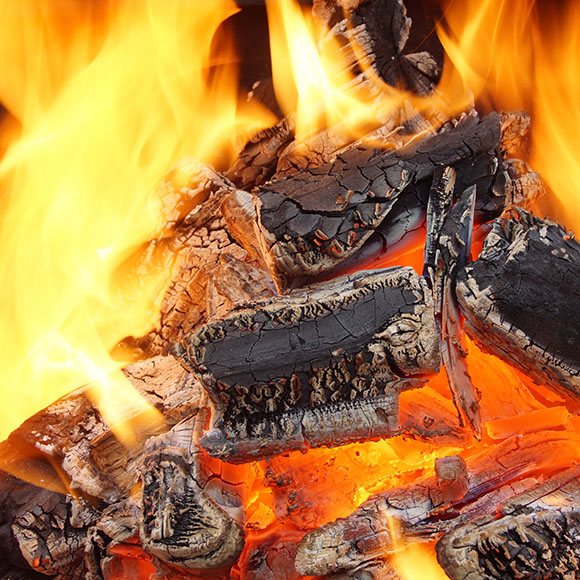 There's nothing quite like enjoying a nice outdoor fire in the summer. Talking and laughing with friends, roasting marshmallows, and enjoying the night sky by firelight are all part of the lazy joys of summer.  It's important to note that outdoor fireplaces need just as much care and attention to be safe as indoor fireplaces.  We've got some easy to follow outdoor fireplace tips that will keep you and your loved ones safe.
Buy the Right Fireplace 
Outdoor fireplace safety begins with selecting the safest model. Whether looking to purchase your first outdoor fireplace or replace an old one, the following are key features to look for:
Size – Fireboxes must be large enough to hold several standard (18-inch) logs to avoid overhang.
Weight – If you're planning on moving your fireplace, choose one that is lightweight enough to move easily, but not so light that it will tip over.
Thickness – Avoid fireplaces made of thin metal as these wear through quickly, enabling hot embers to fall through the bottom.
Lid – Choose a model with a lid to prevent ashes from escaping when the fireplace is not in use.
Fuel shutoff – If you're purchasing a gas or propane fireplace, look for easy-to-access shutoff valves, electric ignition, and proper venting.
Vents and Screens – Select a fireplace that comes with sturdy smoke vents, screens, and mesh protection designed to keep embers from flying out and starting grass or other unwanted fires.
Use Your Fireplace Properly
Once you have selected a safe fireplace model, it's important to take proper care of it before, during, and after use. To avoid damage, fires, and other problems, be sure to:
Never leave your fire unattended, even if there is a screen in place
Use a fire pad if you don't have a stone, concrete, or brick foundation to place your fireplace on
Never use a fireplace on a bare wood deck
Use vents properly. Make sure you direct smoke and embers upwards rather than outwards
Don't burn trash, plastic, or pressure treated lumber in your fireplace
Keep a working hose, two buckets of water, or fire extinguisher nearby whenever the fireplace is in use
Keep your fireplace away from overhanging limbs, leaves, and electrical wires
Only use your fireplace at least 100 feet away from your house, garage, or outbuildings
If using propane or gas, make sure you have plenty of air and venting, even outdoors
Clean your fireplace regularly
Replace your fireplace as soon as it begins to show signs of rusting and wear
Buying the right outdoor fireplace and following these simple usage tips will allow you to enjoy the pleasure of an outdoor fire without putting your property or your loved ones at risk.
Burn safe and enjoy your summer with Doctor Flue!
Doctor Flue offers several options to fit all your fireplace needs.  Our expertly trained technicians can help you chose the right fireplace for your situation, as well as, install and repair as need. Contact us online to request a quote or give us a call at (800) 438-3583 to schedule your service appointment today!
Connect with Doctor Flue on Social Media for more Summertime Tips!
Facebook | Twitter | Google + | YouTube | Pinterest | Houzz