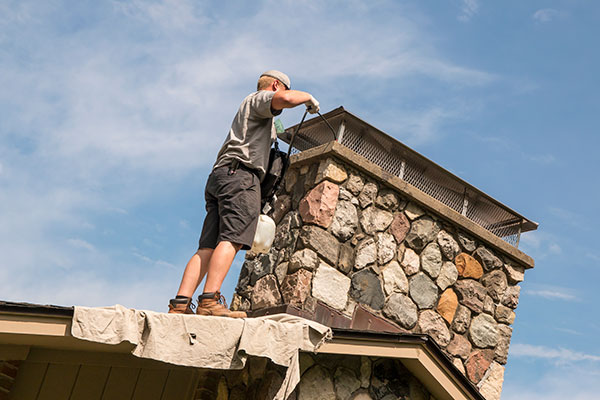 The sun is shining, the birds are singing and the daffodils and tulips are in bloom. Spring has finally arrived after a long, cold winter. Your attention turns to the great outdoors. It is time to get out of the house, fire up the grill, maybe even gas up the lawnmower. As quickly as the weather changes here in Michigan and Ohio, so does our focus from indoors to outdoors. The weather can turn literally overnight, and your fireplace is all but forgotten for the next five to six months. With all the excitement over the long-awaited warm weather, you may have forgotten when to clean your chimney, or even to have it cleaned it at all.
So, how exactly do you know when to clean your chimney? That is one of the Chimney Safety Institute of America's (CSIA) Frequently Asked Questions. Yearly inspections - with cleaning, maintenance and repairs if necessary - are recommended.
Why Clean Your Chimney?
In addition to knowing when to clean your chimney, it is important for anyone who has a chimney to understand why it is important to keep it clean. Whether you have a wood stove, pellet stove or fireplace, chimney cleaning is something that you may not always think about, but you don't want to risk the safety of your home due to forgetfulness or procrastination. Most importantly, a chimney that is not cared for can quickly become a danger for you and your home. However, these are risks that can easily be prevented with proper cleaning.
Here are four factors about chimney cleaning to keep in mind:
#1 Remove Creosote
First, chimney cleaning removes creosote. This build up is a mix of tar, soot and creosote and can be a source of fuel for chimney fires if not cleaned properly. Many homeowners think that simply burning a creosote sweeping log is all they need to do to clean their chimney. However that would be like saying swishing water around your mouth is all you need to do to clean your teeth! It can help, but it is not a substitute for proper cleaning.
#2 Healthy Airflow
Second, when your chimney is clean, you will have a healthy airflow. When there is healthy airflow, fires burn more efficiently and completely. This, in turn, reduces buildup of creosote in the chimney, which ultimately keeps your home and family safe.
#3 Reduce Odor
Third, chimney cleaning reduces odors from the chimney. Whether from creosote, mold, or uninvited critters, chimney odors can permeate the entire home. Plugging in an air freshener is only a temporary fix to what could be a permanent problem if not addressed properly.
#4 Identify Risks
Finally, chimney cleaning helps you identify potential risks that may need immediate attention. Don't wait, only to find out that if you had discovered an issue months ago, it could have saved you hundreds of dollars in repairs.
The Benefits of Spring & Summer Chimney Cleaning
Still wondering when to clean your chimney? Consider springtime or summer. The mild, drier weather makes both great seasons to clean your chimney. The warm, spring weather is perfect for getting the soot and creosote cleaned out of your chimney from all the use during the cold winter months.
Additionally, one thing you don't want April Showers to bring is water down your chimney. With a spring cleaning, you won't be caught unaware of a broken chimney cap or other issues. Not to mention that springtime is also when chimney swifts and other critters are looking to build their nests. So when you have your chimney cleaned, if any issues are found, there is plenty of time to repair them before cold weather sets in again. And if repairs are necessary, there is no ice, which makes it a safer time of year for chimney repair specialists to get your chimney clean and back in working order. Spring and summer is also the time of year when appointments are easier to schedule because the CSIA-Certified Chimney Sweeps at Doctor Flue have more availability!
Don't Wait Beyond Fall
Don't let cold weather dictate when to clean your chimney. Especially here in Michigan or in Ohio, the winters can be brutally cold. Don't get caught waiting until the temperatures drop and you want to use your fireplace before getting your chimney cleaned. Many homeowners plan a cozy evening in front of the fire only to find out their chimneys aren't working correctly. If there is damage or other problems that require repair, winter isn't the time of year you want to go a week or longer without being able to use your fireplace or stove. Get your chimney cleaned in the spring or summer and have the peace of mind knowing you are ready to safely build a fire in your stove or fireplace on that first crisp fall evening and on into the winter.
Symptoms That Suggest a Chimney Cleaning is Needed ASAP
Not all problems with your chimney are obvious; some are only able to be seen with special cameras that can fit into small spaces or around bends that may be in your chimney. However, sometimes symptoms occur which suggest there may be problems with your chimney. Holding off on cleaning and inspection in these cases is not in the best interest of you or your home. It's important to get a cleaning and inspection right away when any of these happen:
These are just five examples. To keep your fireplace or stove in the best working order, have your chimney inspected and cleaned each year. Surprisingly, this is true even if you never use your fireplace!
By scheduling regular inspections you take the guesswork out of wondering when to clean your chimney. You will also have the peace of knowing that your stove or fireplace is safe for use every season.
Doctor Flue Chimney Cleanings & Inspections
Doctor Flue inspects your chimney during a routine cleaning. Our CSIA-certified chimney professionals will check for signs of chimney fire by looking for warped metal dampers, cracked flue tiles, cracks in exterior masonry, evidence of smoke escaping through mortar joints, or roofing materials damaged by hot creosote.
We use modern camera technology to look at areas you couldn't easily see. You'll receive a full written report of our findings.  These inspections are recommended annually to prevent dangers like chimney fires or carbon monoxide poisoning.

Keep Your Michigan or Ohio Chimney Safe – Call Doctor Flue!
We can inspect and repair your fireplace, stove or chimney to fix any problem! Contact us today to schedule an inspection to help keep your home safe and your fireplace ready for winter.
Call Us: 1-800-438-3583
Email Us: office@drflue.com
Office Hours: Mon-Fri: 8am-4pm
Connect with Doctor Flue on Social Media